UNO review | My favorite Xbox Live Arcade game from Xbox 360? UNO! So I really couldn't be more happy when Ubisoft announced that UNO was coming for Xbox One. The people from Ubisoft Chengdu did a pretty good job recreating UNO, besides a few weird design mistakes you'll get your much-loved digital card gameplay from this UNO game. Check out why in this review!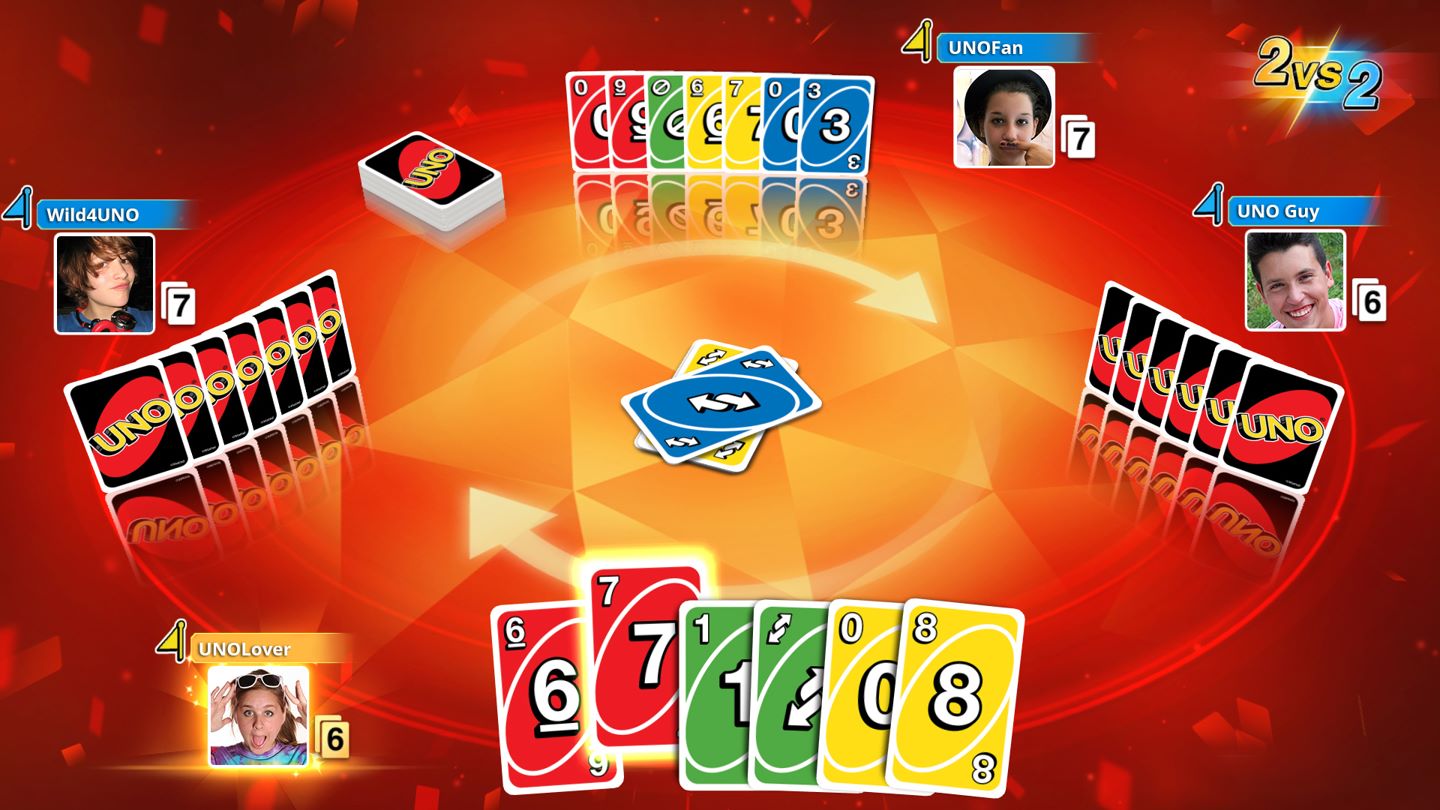 How does UNO work?

Gamers get seven different cards, green, red, blue or yellow. Each card can be between 0 to 9, you have a few special cards that force players to skip a turn or pick up an extra card. Gamers take turns and place a color or number matching card on the table. When someone reaches one card the player needs to say "UNO" The gamer without cards wins the game. Losers need to count their remaining cards and the winner gets them. The first gamer to reach the agreed upon score (I normally take 500) wins the game.
THE GOOD
In real life and on Xbox One, UNO is a game that stays fun for days, months and even years. Making it the perfect game to turn on if you have a few minutes (or hours) to spare.
The easy to understand gameplay makes it the perfect game for young kids, the youngest won't understand the scoring system but that's not necessary for enjoying UNO.
Talking about kids, they will absolutely love that UNO has a Rabbids-themed card deck. It's not simply a visual add-on, this deck adds four new cards that mix up the gameplay. More DLC decks are on the way, let's hope that Ubisoft is smart enough to give them away for free. I would love a Watch Dogs deck with hacking features!
Playing a local multiplayer UNO game is practically impossible but Ubisoft solves this with a two versus two mode. I already had some really fun game moments with my girlfriend.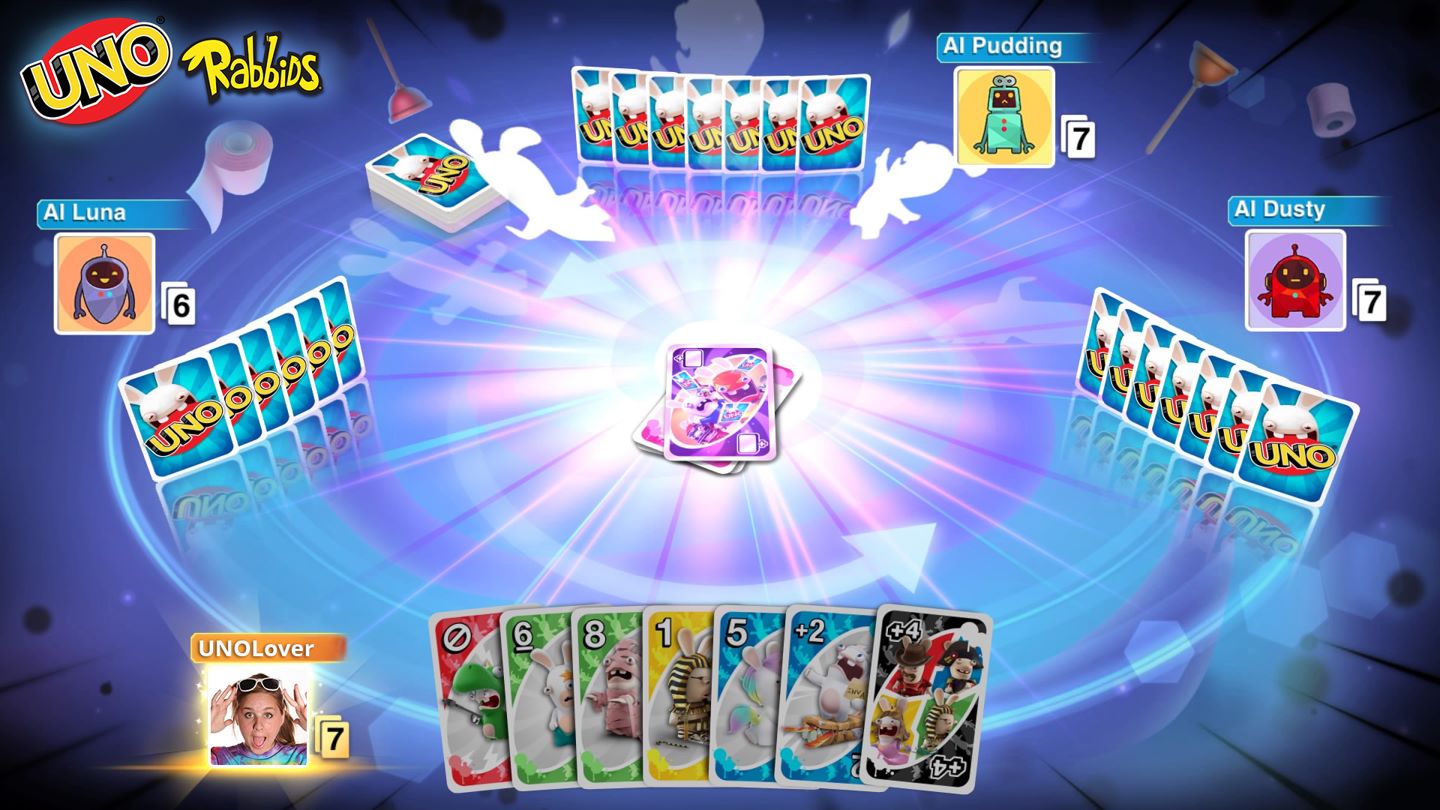 Mixed Feelings
I love the idea behind Ubisoft's Club, rewarding loyal players with extra content. Ubisoft doesn't force you to register for it but it locks a rule behind an easy Club challenge. If you want to unlock it you will need to make an account.
THE BAD
One of the reasons why I loved the previous UNO on Xbox 360 was meeting new gamers, everyone on the internet knows that the social aspects from Uno's Xbox 360 version caused some issues. Nudity for example, how did Ubisoft solve this? They removed the option for video and voice chat with strangers. A drastic solution that completely ruins the social experience. You have both options with friends though. At least parents don't have to explain why a naked human was dancing on-screen but I would have prefered an option to disable video or chat so most players could enjoy getting to know new gaming friends.
Score: 75% | We won't have to yell DAAAAHH! while playing Ubisoft's UNO, it's a fun card game that everyone can play and love. It's a BIG shame that the social features are very strict, removing that magic that the UNO game had on Xbox 360. Nevertheless, UNO is a game worth buying and will give you hours of enjoyment.
Founder | Editor-in-chief | Social Media Manager
Gaming is a passion and I wanted to share my Xbox enthusiasm. That's why I started LifeisXbox, to make sure gamers all around the world know what games they should buy or avoid. I would like to thank you for visiting my website. Your support is very welcome and I hope you stick around!