Scribblenauts Showdown
I must admit something. I have been a big fan of the series since the first entry on Nintendo DS! For those unfamiliar with Scribblenauts, let me tell you about it: It's a series of puzzle/action games developed by 5th Cell and published by Warner Bros that debuted for Nintendo in 2009. In Scribblenauts, you write names of objects and animals so they pop up into the game, for you to use/interact with. Now developed by Shiver Entertainment, support for multiplayer, lots of mini games and an extensive customization system and you have Scribblenauts Showdown, the first of the series to hit Xbox. Now let's write down "Review on LifeisXbox" so you can read our impression for Scribblenauts Showdown! 
THE GOOD
I've been amused by the creativity from the developers for this game series for a long time: a game where you create things to use them into your gameplay is something unique! It may look too simplistic when you read about it, but imagine yourself creating spaceships for an obstacle race, using dinosaurs to fish, mythological creatures to fire in a catapult and what else your imagination allows you to do. Now you have a better picture of what this game is all about.
I was afraid that for writing in the game we would use the system keyboard, what would completely destroy the fun. Cleverly the developer built an in-game keyboard accessible with the left analog stick that works excellent! The letters are grouped in 7 subgroups of four letters each that you access pressing the analog stick in that direction and pressing the correspondent button in your joystick (Y for the up letter, A or the down letter, X for left and B for right). It's simple, intuitive and works perfectly for the game!
There are three game modes in Scribblenauts Showdown: Versus, where you play against a friend or a bot – it's perfect to try all the 27 mini games available, divided in wordy mini games and speedy mini games – Showdown, where up to four players compete in a board game to be the first to reach the end, and Sandbox that comes with different scenarios and challenges to be accomplished, gifting you cool rewards.
Talking about rewards, the game has a great feeling of accomplishment. Every game you play grants your Starites, the currency in the game, that can be used to buy new words to be used during gameplay, new customization items for you to modify your characters and new stages to play in Sandbox mode. Every achievement unlocks a new character for you too, Great thing to make players feel they're always getting something new while playing.
Graphics in Scribblenauts Showdown are great! Colorful, funny and child-friendly, you can have fun with your kids without any concern. Sound is also very good, with cheerful music and sound effects.
I can't tell you exactly how many idioms are there in the game, but the game is fully localized to Portuguese! Warner Bros has a long history of translating games to the markets where they release their games and with Scribblenauts Showdown it wasn't different. It's great to fully enjoy the game in my own language (I'm from Brazil and here we speak Portuguese). It's worth checking if it's available in your language to increase the fun
MIXED FEELINGS
Although 4 players can enjoy the Showdown mode, all mini games are designed for up to 2 players only. I was really expecting to try the mini games with more people at the same time, but I see it would be a little complicated to have four keyboards at the screen at the same time.
The mini games are all great and fun to play, but other party games (that one with a Wario, for example) have more than 50 mini games, I really wish the developer had added a little bit more of them. That said, the current collection is enough to spend a lot of hours on it.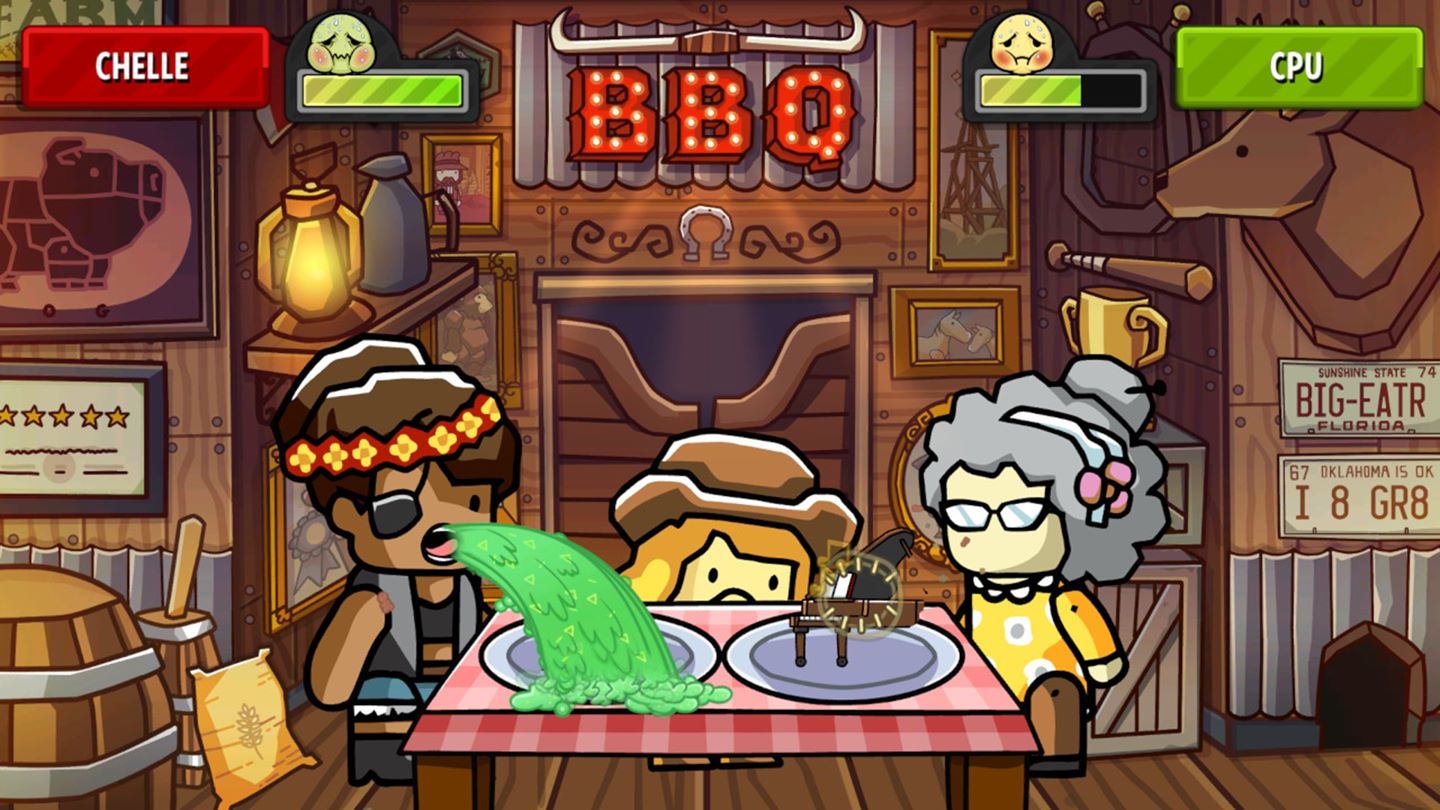 THE BAD
I've nothing to complain about this game. Really. I had an amazing time playing and reviewing it. Even when playing alone, my experience with it was great!
Scribblenauts Showdown [Score: 9.0/10] The Scribblenauts series has made many fans on other platforms. Now for the first time on Xbox One I'm sure it shall make a lot more! With really fun gameplay that stimulates your creativity, you have a party game that will keep you entertained for hours. Gather up your friends and prepare for the showdown!
Dev: Shiver Entertainment Publisher: Warner Bros
Played on: Xbox One and PS4 | LifeisXbox received a digital review code, provided by DayOne.
With a history of gaming that goes from his old man's Atari 2600 to his Xbox One, Rafael or RAF687, our Brazilian editor, has a love for games as old as he can remember. He has already spent countless hours in many consoles (Mega Drive/Genesis, Sega Saturn, PS1, PS2 and Xbox 360) and is always ready for more (as long as his wife is asleep). Raf has been writing for LifeisXbox since 2017, with a passion for games of almost all genres – though we know he has a special place in his heart for RPGs, racing games and anything that includes pixel art. Writing about games has always been a childhood dream to Raf, dream that he has fulfilled reviewing games for you here. You can drop him a message at Twitter, Facebook or Xbox Live at any time.