Race Arcade
Can you smell the nostalgia in the air? Widely known for its mobile and PC games, Finnish studio Iceflake Studios brings to Xbox One Race Arcade, a top down racer that looks like a tiny game but plays like a big one! Want to know our thoughts about the game? Better start your engines, fasten your seatbelt and step on the accelerator before you get behind!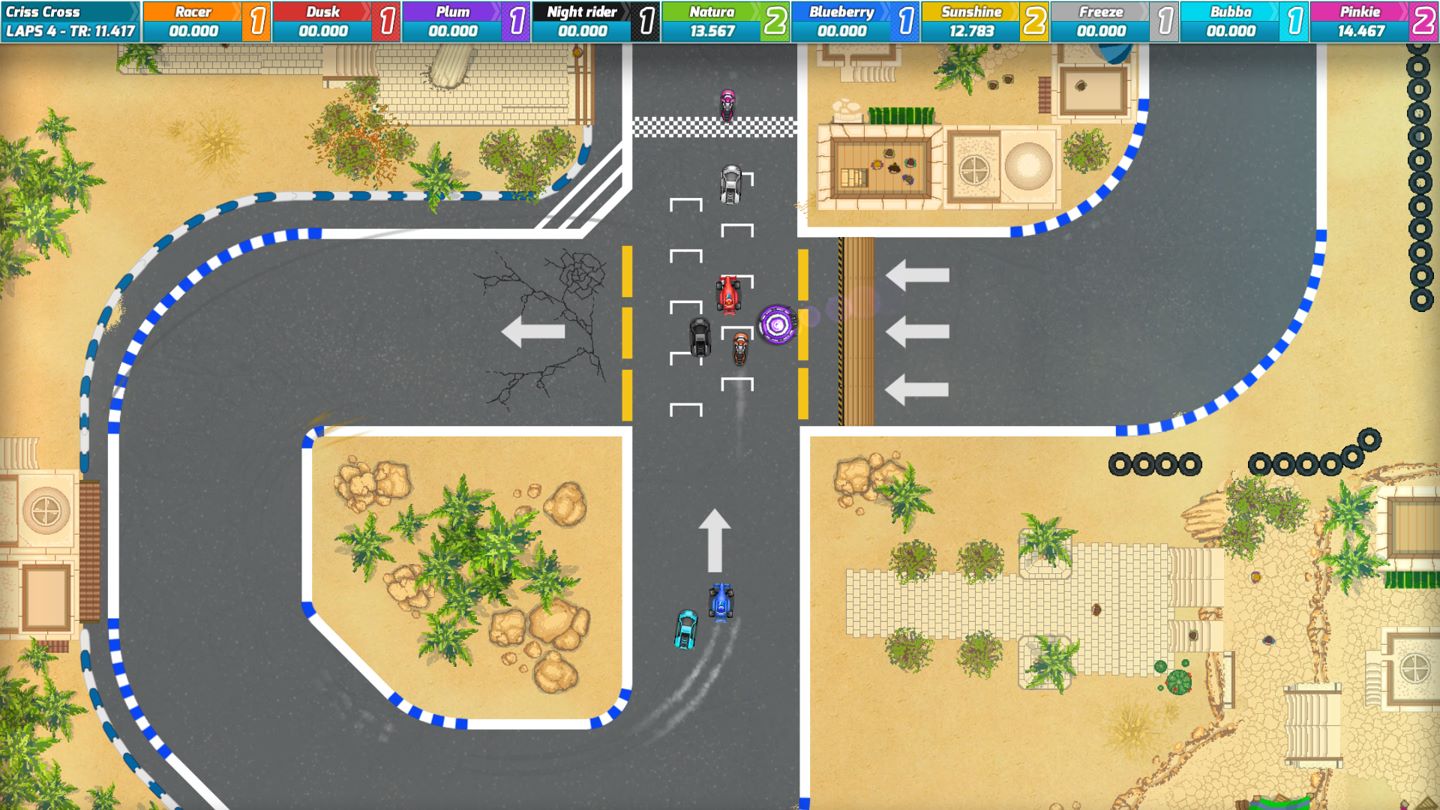 THE GOOD
The air of nostalgia in this game is right at your face when you first start it: the first load screen is a DOS computer screen very common in games from the 90's, showing all the instructions during the game boot. All the visuals in the game are like classic racing games from the 8 bit – 16 bit age, like the great Micro Machines series from Codemasters, or other modern (but not that famous) games like Bang Bang Racing, from Digital Reality, but with all the charm of 2D graphics.
In its proposal, graphics are great! Very small, but great. Colorful and very well detailed, you can see many details in the track and in the environment around it: small cracks on asphalt, houses and small animals walking around, and many, many more. One small feature that I really liked are the tire marks on the track after a drift or an abrupt braking. They stay visible until the end of the race.
Talking about the tracks, you have stages in circuits, streets, airports, sand/dirt, jungles, beaches, ice just to name a few. And each stage plays different, according to the kind of terrain you're racing at.
For those with enough friends to play with, the game supports up to 6 players on local coop! You have the option to use on single screen for everybody (making the already small graphics almost invisible so all the stage stays visible), but it's better to play on split screen.
The game has 6 kinds of vehicles (rally, formula, motorbike, sports, tractor and even a UFO) that really feel and drive different from each other. Each car has its own status between max speed, grip, acceleration and handling. Choosing the fastest one isn't a certain victory!
MIXED FEELINGS
The game provides a fair challenge. You'll face some tough races in the career mode, but nothing impossible to beat. In career mode. But in the single race, the difficult increases exponentially thanks to the mixed class in the same race.
It's not a problem to me, but I can foresee some people complaining about the game length: First, there're races that takes less than 2 minutes to be completed. And when you get used to those fast circuits, you're thrown into a race that'll take more than 4 minutes to be completed. This difference is no big deal, but these longer races does feel long. Also, the three-level career for each vehicle has too many races to be completed. Maybe less tracks in each level would have been better.
Sound effects and music are ok. Nothing really special or remarkable.
THE BAD
The Y button is used to spawn your vehicle in the track. Very useful when you miss a turn get stuck into the trees or under a bridge. But it takes too much time holding de button for it to work.
In career and single race modes, you face 9 other AI racers. In multiplayer, no matter how many players are in the game, there's a maximum of 6 racers. Why the difference?
Although the game shines in its multiplayer mode with up to 6 friends fighting for the first place, there's no online multiplayer. I can't imagine how complex it is to include an online multiplayer mode in a game, but as Race Online, the PC version of Race Arcade, has it, why not to include it on the console version?
Race Arcade is an unpretentious top-down racing game with decent enough gameplay and replay value, but I'm afraid  you need more than that. Its simplistic gameplay will keep you playing for some hours but not like some other racers. The multiplayer, even though there isn't an online option, will keep you and your mates competing for the first place for quite some time. I can grant you that, if you're up for a good challenge against the AI, you'll have a good time with this game but I was hoping for a little bit more.
With a history of gaming that goes from his old man's Atari 2600 to his Xbox One, Rafael or RAF687, our Brazilian editor, has a love for games as old as he can remember. He has already spent countless hours in many consoles (Mega Drive/Genesis, Sega Saturn, PS1, PS2 and Xbox 360) and is always ready for more (as long as his wife is asleep). Raf has been writing for LifeisXbox since 2017, with a passion for games of almost all genres – though we know he has a special place in his heart for RPGs, racing games and anything that includes pixel art. Writing about games has always been a childhood dream to Raf, dream that he has fulfilled reviewing games for you here. You can drop him a message at Twitter, Facebook or Xbox Live at any time.