Quatros Origins Review | It doesn't happen much when a developer from my country, Belgium brings out an Xbox One game. So when I started playing Quatros Origins I was a little bit nervous. Wasn't necessary because the developer made a really fun variant for Tetris. Read more in this review!
THE GOOD!
I think all gamers know Tetris and more than half of them played it. Quatros Origins is very similar but the twist is the turning field. Everytime you place a block the field will turn 90-degree, you are actually playing on four different fields at the same time. It's perfectly possible to have one or more lines on a turned and invisible screen. That's the main fun part from Quatros, you need to remember all the playing fields while playing the gameplay that we all love from Tetris.
You have four game modes, normal and hardcore are pretty much the same, hardcore is obviously harder. The other two are more original and could be seen as mini games. Raid is limited to 40 lines and my favorite was Fixate. In Fixate you don't have the option for turning blocks, so you have less control and it forces you to have more damage control.
Ubisoft's Tetris game on Xbox One has terrible presentation, Quatros Origins shows how it should have been done. Big thumbs up for developer God As a Cucumber for having a spot on interface and graphical effects.
Playing against friends in couch co-op is spot on, giving you that old-school gameplay moments from the 80's & 90's.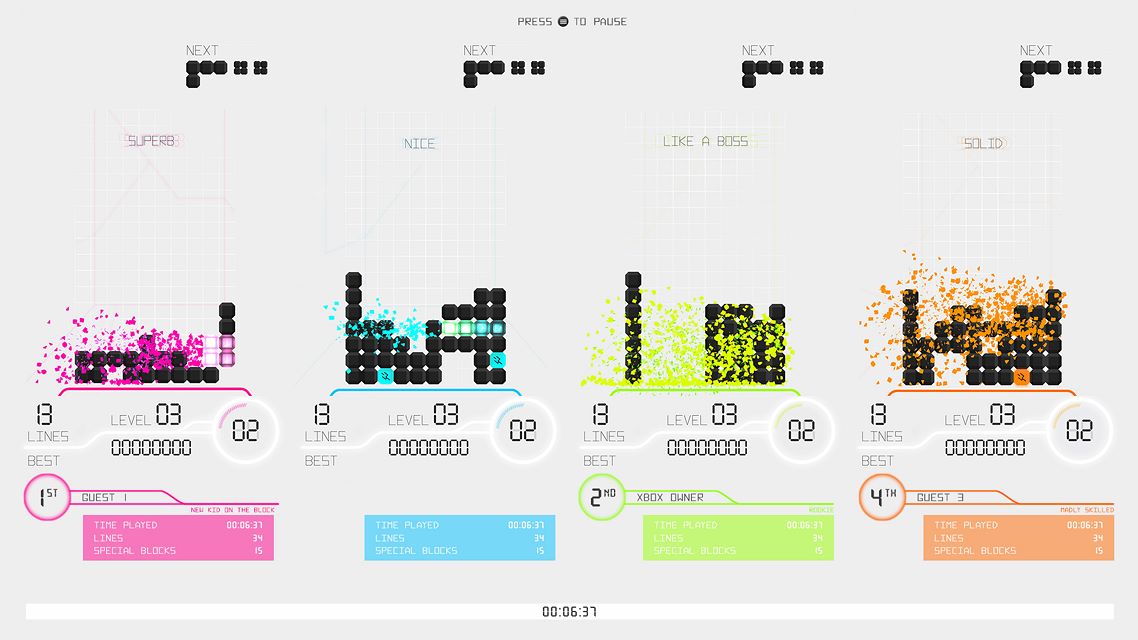 Mixed Feelings
This kind of game benefits from beating friends high scores, you have leaderboards but it's a shame that while playing, you don't see the scores from your friends. It would have been a great extra motivation for continuously playing Quatros Origins.
THE BAD!
Turning it off is possible and that's what I did after an hour or so but the music is very repetitive. Can't say anything bad about the sound effect though.
Score: 84% | Quatros Origins is the next evolution for Tetris. Giving you that famous gameplay that everyone loved and giving it a fun and original twist.
Founder | Editor-in-chief | Social Media Manager
Gaming is a passion and I wanted to share my Xbox enthusiasm. That's why I started LifeisXbox, to make sure gamers all around the world know what games they should buy or avoid. I would like to thank you for visiting my website. Your support is very welcome and I hope you stick around!