Overcooked review | Cooking is mostly a multitasking thing that people do every day. In Overcooked that multitasking causes some crazy fun cooperation with friends, you can play the game alone but you'll be missing out on so much. Read more about it in this Overcooked review!
THE GOOD!
The required communication for co-op play is unlike anything I've seen before. It will make you yell and laugh, make friends into enemies and enemies into friends. An absolutely blast to play with your boy or girlfriend, neighbours or random strangers passing your house.
Making virtual soups, burgers or pizza's have never been this fun. It starts "easy" but eventually you'll be sweating and yelling your co-op partner for onions and tomatoes.
Getting three stars on every campaign level is very addictive and hard. Giving you quite a lot of replay value.
Overcooked has a smart multiplayer controller trick so you can play with two players on one controller. I've seen it before but I can't remember what game that was. Anyway, it's a great feature for those that only have one controller and don't want to spend money on a second.
Great selection of playable characters, humans and animals. (Yeah, I don't think that the kitchens from Overcooked get inspection)
Overcooked has cute colorful and simplistic graphics and a great overall performance. We never experienced frame drops or other issues.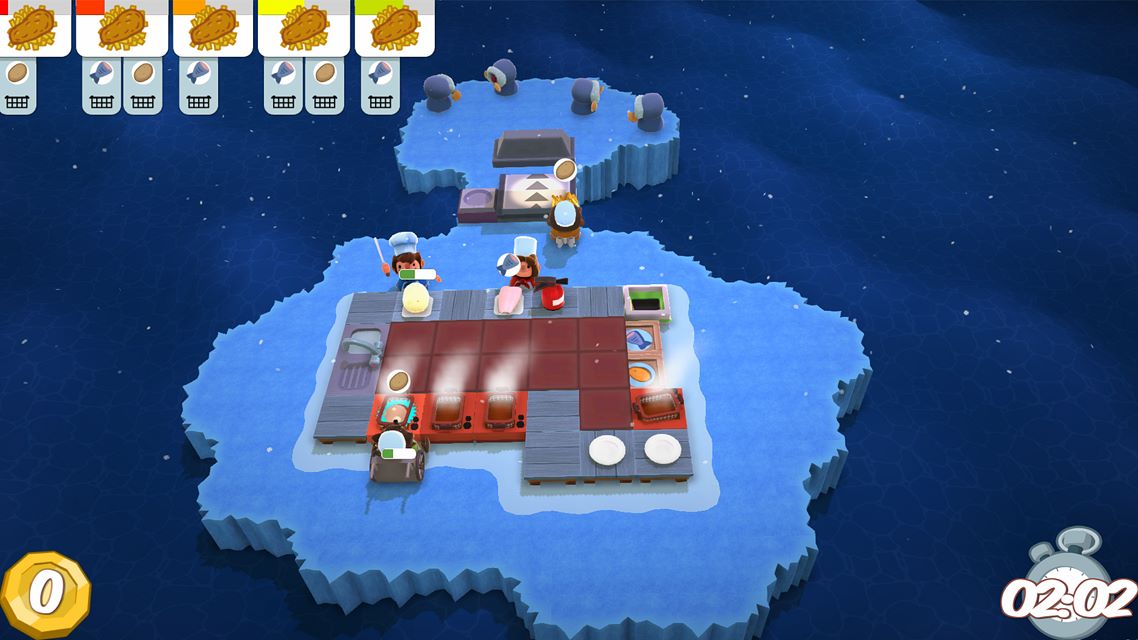 Mixed Feelings
Controls are good enough for co-op play but a nightmare alone. It frequently happened that I picked up the wrong item but that could be blamed on the time ticking away and causing stress.  I feel that the developer could have made it a little more accurate though.
THE BAD!
Please avoid this "The Bad" part if you are playing with friends! Overcooked is clearly made to be played in co-op, you can play alone but it's nearly impossible to finish. The developer should have made the game much more easy. Especially the controls are frustrating and hellishly impossible.
I'm still scratching my head why Overcooked doesn't have any online play. A game solely build for co-op play NEEDS online play, no excuse. Overcooked could have been that online game that players kept playing for years. I'm so incredible disappointed for that because I knew this would have been awesome.
Score when played in Co-op: 78% | The score is dragged down because playing it alone is a nightmare, a shame because Overcooked is simply the best local co-op game on the console. Great laughs and so much fun moments that you are forced to buy it if you play with friends.


Founder | Editor-in-chief | Social Media Manager
Gaming is a passion and I wanted to share my Xbox enthusiasm. That's why I started LifeisXbox, to make sure gamers all around the world know what games they should buy or avoid. I would like to thank you for visiting my website. Your support is very welcome and I hope you stick around!