N++ 
October 2017, Canadian studio Metanet Software brings the third entry in N series to Xbox One: N++ is the successor of N+, one of the best indie games available for Xbox Live in 360 era. Prepare to put your nindo, your way of the ninja, to test in one of the most challenging platformers you've ever tried. Take your scarf and follow us into this adventure to become a ninja master!
THE GOOD
N++ is all about running to the exit of the level as fast as you can to get the highest scores. To do so, you'll run, jump and dodge hazards while collecting gold coins (which helps in your score). But don't you dare think it's a simple task: In this world, the fluidity of your movement and momentum are your only allies! Only through a lot of practice and perseverance you'll reach the top of the leaderboard.
Despite its simplicity, the game has a good learning curve. Be it by dominating the art of moving in high-speed or wall-jumping through dangerous mines and enemy lasers, you always feel like you`re improving. New enemies are introduced in a good pace so you always have a fresh air in the form of different challenges to overcome.
The game offers you (I'm not kidding) hundreds if not thousands of stages divided in 4 different levels (from easier to harder ones: Intro, N++, Ultimate and Legacy) and four game modes: Solo, Hardcore, Co-op and Race. And if that many stages aren't enough for you, there's also a complete level editor where you can create your own crazy levels and share them online.
As an avid local multiplayer gamer, I must add that Co-op and Race modes are really satisfying. In Coop, sacrifices shall be made for the success of the team (and friendships will be destroyed when that troll friend of yours presses the Reset button at the wrong moment). Race mode became my favorite one: I cannot describe how delightful it's to reach the finish line (door, actually)
Talking about graphics, the game offers a simplistic art style that you'll love or hate. I'm a great fan of the developer's job since the early versions of the game, a time when flash animations with stick figures were at vogue on the internet. And although simple, the animations are great: you can see you're your ninja blowing to pieces when stepping into a mine or being electrocuted by lasers.
If you enjoy electronic music, you're really going to enjoy the game music: you have at your disposal tracks from dozens of electronic artists. Quite a playlist to enjoy while playing!
MIXED FEELINGS
New color schemes or pallets. This is your prize for completing episodes and taking all the gold coins in it. A little disappointing, I must say. But some will enjoy this color changing to the game provided by this extra challenge.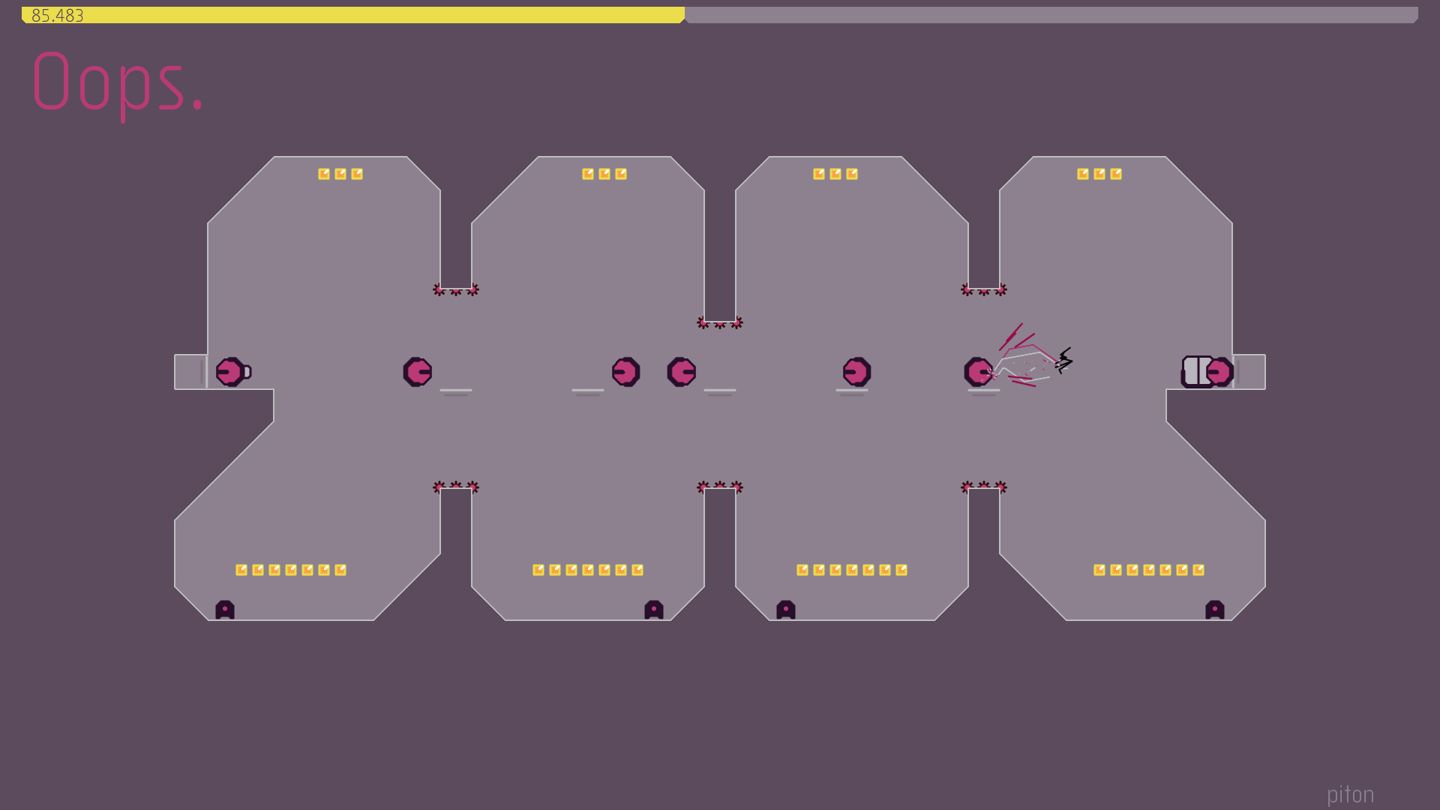 THE BAD
Something that bothered me is the level editor. It has many options for you to create nearly impossible levels (like those inhuman Super Mario levels we see weekly on the internet). But there's little to none information about your controls and the behavior of each enemy, so you have to try each function for yourself.
With all this simplicity, N++ is a masterpiece in its genre: I can't remember any another platformer that's so challenging without being unfair to you. It has that 'just one more level' feeling that shall keep you busy for months or, at least, visiting it at least once a day. If you've never tried this game before, now you'll have the chance to enjoy one of the most challenging and engaging platformer ever made. Now grab your copy of the game and follow your way to become the ultimate ninja master.
With a history of gaming that goes from his old man's Atari 2600 to his Xbox One, Rafael or RAF687, our Brazilian editor, has a love for games as old as he can remember. He has already spent countless hours in many consoles (Mega Drive/Genesis, Sega Saturn, PS1, PS2 and Xbox 360) and is always ready for more (as long as his wife is asleep). Raf has been writing for LifeisXbox since 2017, with a passion for games of almost all genres – though we know he has a special place in his heart for RPGs, racing games and anything that includes pixel art. Writing about games has always been a childhood dream to Raf, dream that he has fulfilled reviewing games for you here. You can drop him a message at Twitter, Facebook or Xbox Live at any time.