Review Dark Arcana: The Carnival | After Enigmatis, Eventide, Grim Legends and Nightmares from the Deep series, Polish publisher Artifex Mundi ports another one of your point and click games to Xbox One: Dark Arcana: The Carnival. Buy your tickets, grab a popcorn and come with me to a ride through this amusement park as, playing as a detective, we search for the vanished mom of a little girl.
THE GOOD
If you're a fan of point and click games or have played any of the earlier games from Artifex Mundi, there're great chances you'll enjoy this ride. The atmosphere of mystery, the colorful scenarios and puzzles are all in there, waiting for you.
The art direction deserves a thumb up: scenarios are quite beautiful and, aided by the music, create the right atmosphere for the game.
About the puzzles, some of them really took me some time to solve, but none of them is an impossible one. All you need to do is to pay attention and try a couple of times. If you're still stuck in one of them, the game offers hints to help you by pressing up on D-pad.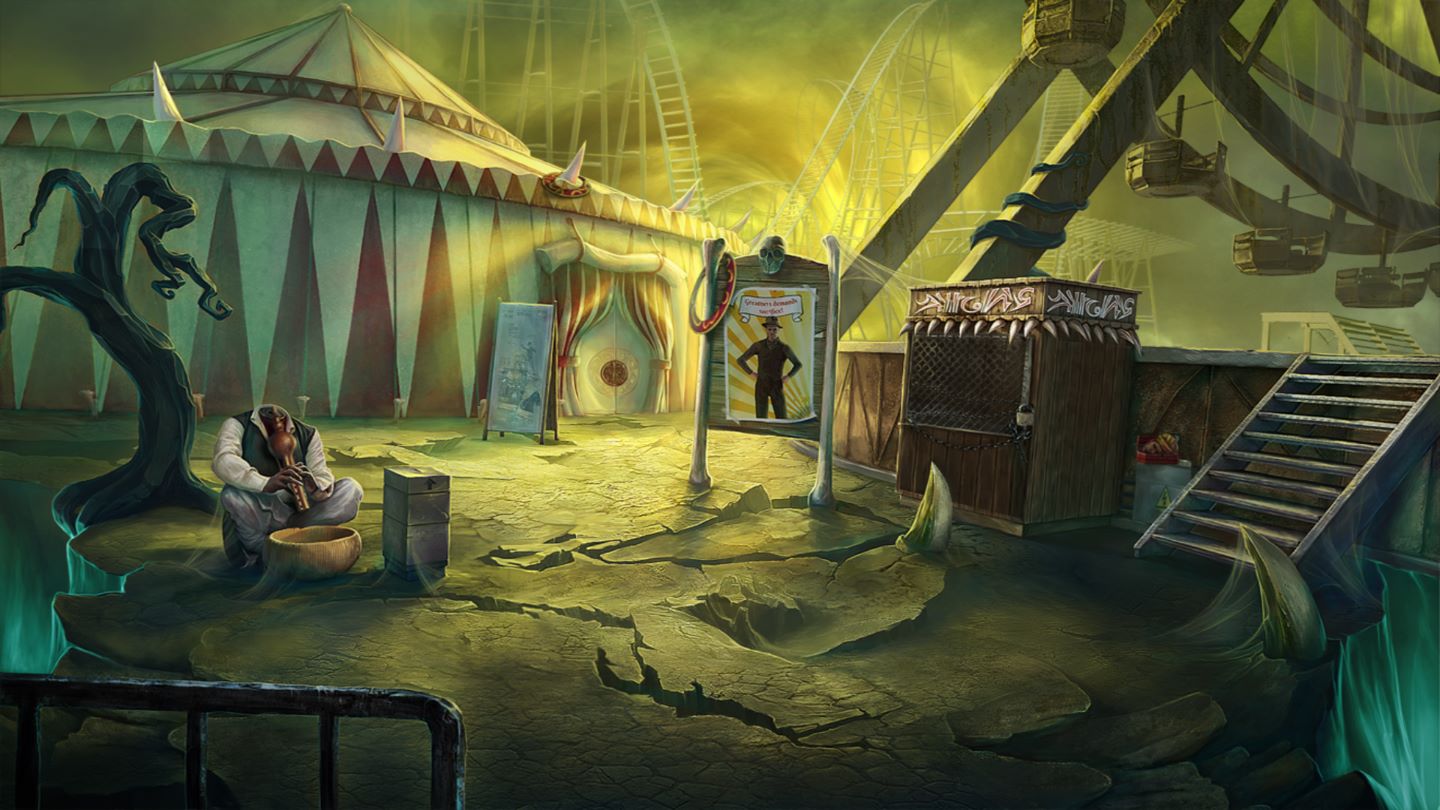 Mixed feelings
There're few zones to explore, each with up to three interactive areas. It's a good aspect when you're wandering, looking for what to do. But at the same time, it contributes for its short duration. The developer talks about a story that 'slowly uncovers', but for me, it went way too fast.
Despite been short, the story is good. Simple, but good. But some turnarounds you come across are way very predictable.
The bad
The game is too short: it took me about 4 hours to finish it (remember I got stuck plenty of times). On a first run, you may take 3 or less hours to finish it. The story evolves on a good pace, but I'd like it not be that short.
The 3D models used in animations aren't the best there are. They act strangely during the cut scenes. Developers could have put a little more effort on this aspect.
There's one specific mini game, one in which you must search for items on the screen, that repeats too many times. After the third time, you start to look for a way skip it. I wonder if they were short on creativity.
The characters' background deserved more attention as well. You play as a generic detective who just happens to be a woman (and you only discover that when she starts to talk to herself). There's just one character who received proper attention while most of the NPCs don't even have a name.
Score: 70% | If you like point and click games and have already tried one of the other Artifex Mundi games, be it on your Xbox, PC or cellphone, I believe you're going to enjoy this adventure. It's short, there are some aspects that could have had more attention, but it isn't going to diminish your entertainment. There're a few figures during the game that may cause some discomfort. So be advised if you don't like demons and things related.
With a history of gaming that goes from his old man's Atari 2600 to his Xbox One, Rafael or RAF687, our Brazilian editor, has a love for games as old as he can remember. He has already spent countless hours in many consoles (Mega Drive/Genesis, Sega Saturn, PS1, PS2 and Xbox 360) and is always ready for more (as long as his wife is asleep). Raf has been writing for LifeisXbox since 2017, with a passion for games of almost all genres – though we know he has a special place in his heart for RPGs, racing games and anything that includes pixel art. Writing about games has always been a childhood dream to Raf, dream that he has fulfilled reviewing games for you here. You can drop him a message at Twitter, Facebook or Xbox Live at any time.