Bridge Constructor Portal
 Bridge Constructor, the engineering simulator from Austrian studio ClockStone, gets a more than special new version: in Bridge Constructor Portal you will revisit Aperture Laboratories, from Valve's Portal series, as a new employee. Working as chief custodian for the test laboratories, you will be responsible for building bridges and structures to take vehicles from the start to the finish line, mixing the best of two worlds. Be it a portal or a bridge, choose what suits you better so we can reach our review for this challenging game.
THE GOOD
The Bridge Constructor series is made of puzzle games where you build bridges using support structures, road segments and ropes. You start your projects from predetermined spots and build bridges in order to make vehicles reach the finish line. The challenge lies in administrating how much weight a structure can handle before collapsing with the somehow realistic physics of the game. In Bridge Constructor Portal we add elements from Valve's Portal series to the formula, like the so-called portals, propulsion gel, cubes, lasers and much more, increasing the challenge and giving more variety to the game.
For those wondering about it, yes, she's here! Our beloved GLaDOS, the sadistic AI from Aperture Laboratories voiced by Ellen McLain, is here guiding you through your challenges, explaining the use of elements, how many employees have already failed in a test and many other funny comments only the ones who have previously faced her know she's capable of. Lovely!
The gameplay is where Bridge Constructor Portal stands out. In its 60 levels, you will need to take vehicles across hazards like sentry turrets, laser barriers and acid pools. Taking one vehicle (a forklift guided by the small Bendies) grants you one star and access to the next level. Taking a full convoy (varies in number of vehicles) grants three stars, granting that extra level of challenge for those looking for it.
Graphics in Bridge Constructor Portal are charming, simple and very well animated. It's adorable to watch Bendies, the small characters, falling from the forklifts when one rolls over.
Music and sound effects in the game are great! But I tend to ignore them to pay attention to GLaDOS and the turrets voices and comments during gameplay.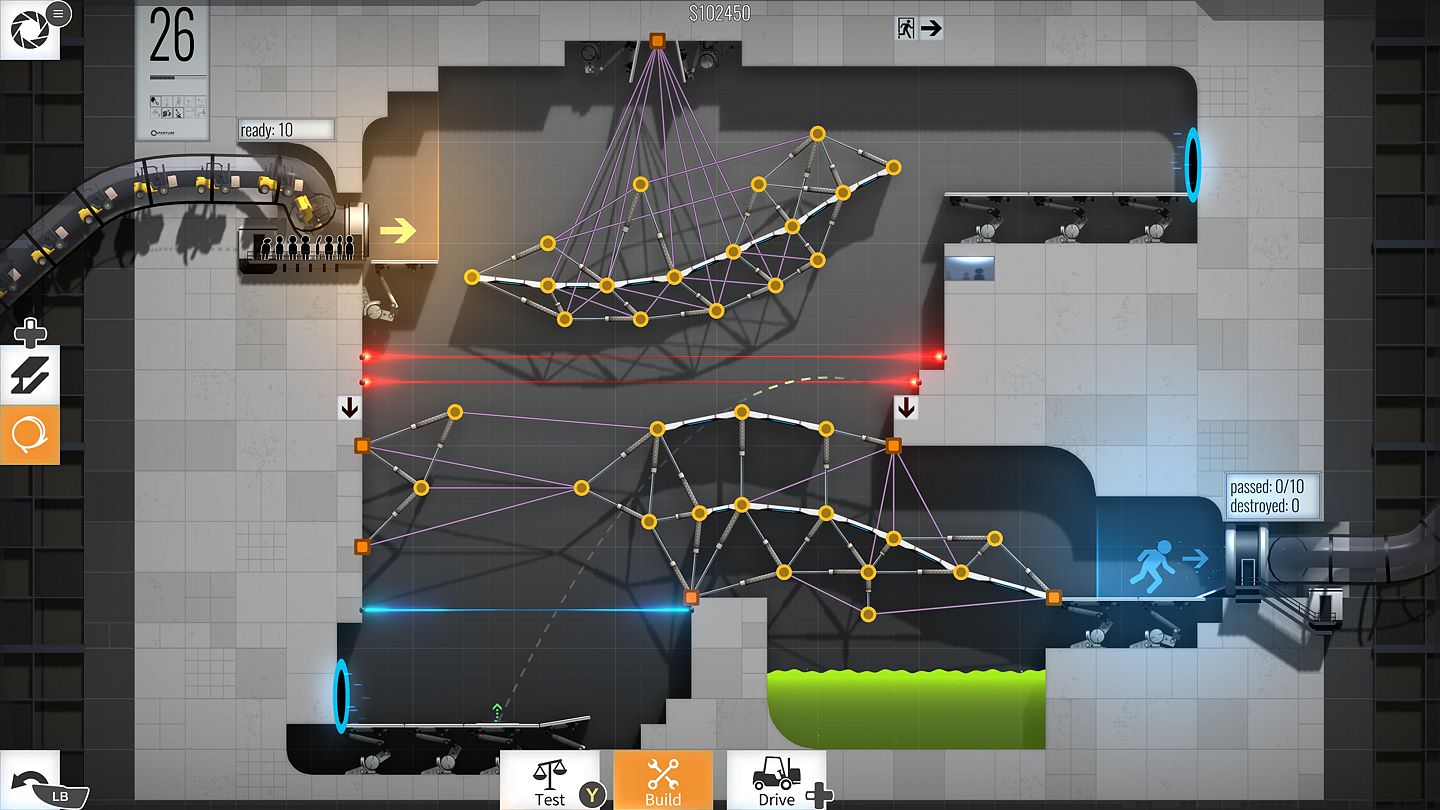 MIXED FEELINGS
The game pace will depend on how you manage your constructions: if you repeatedly struggle to succeed in a level, the game pace will be very slow. And if you don't find pleasure in its trial and error nature, you may find the game very monotonous. Now, if you enjoyed playing as an engineer in one of the previous games of the franchise or like a good and innovative puzzle game, Bridge Constructor Portal will keep you entertained for a good time.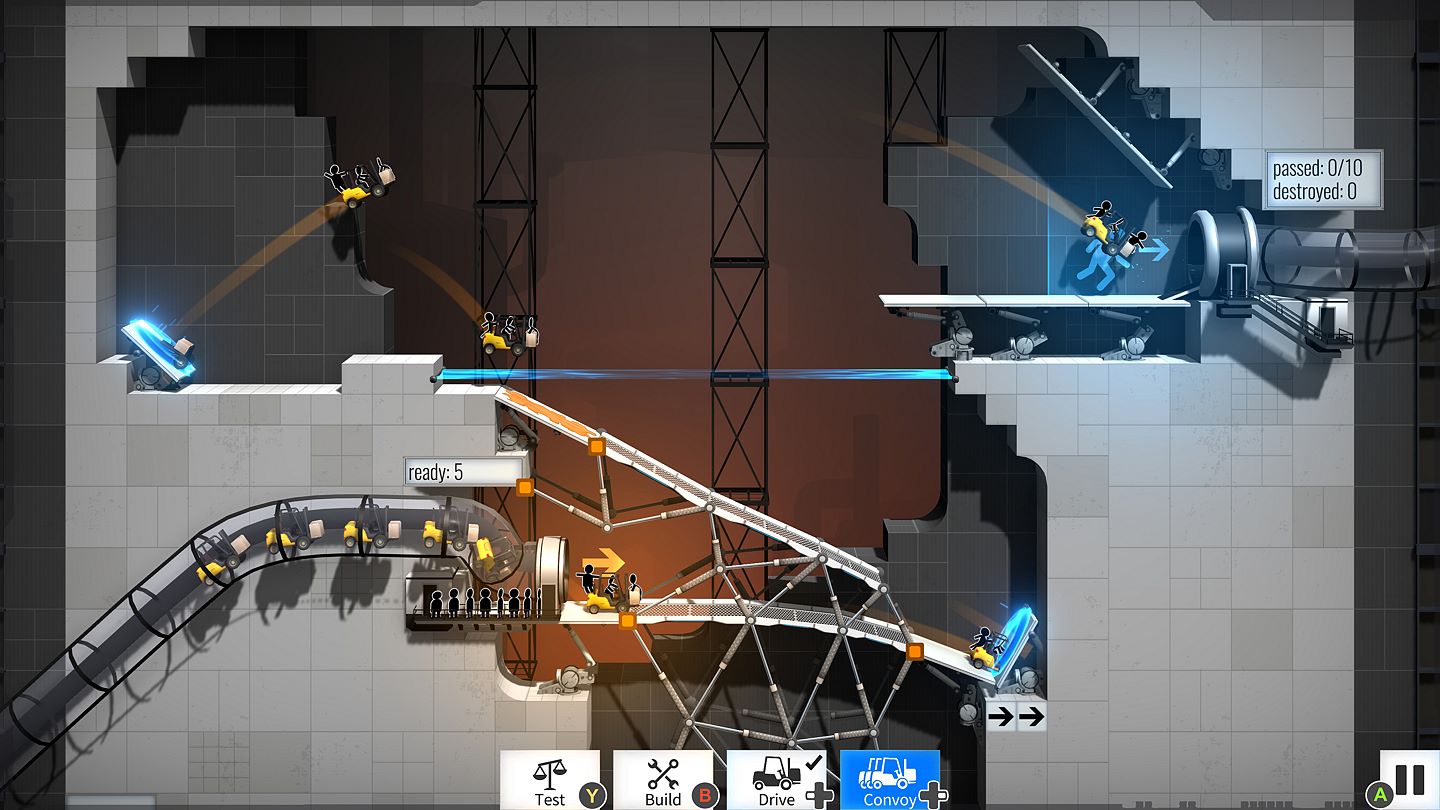 THE BAD
Sometimes, the music seems to disappear with no apparent reason. This isn't a thing that compromise the experience with the game, but it's worth mentioning. Maybe GLaDOS was mocking me and turned it off on purpose.
Bridge Constructor Portal [Score: 8.4/10] ClockStone Studio really made my day with Bridge Constructor Portal: They united two of the franchises I like the most and delivered a game that's funny and challenging and provides that 'yes, I did it' feeling I miss so much nowadays! As a puzzle game, it has a very specific public, but every player looking for a new experience should try it. Maybe it's time to awaken the inner engineer who lives inside of you.
With a history of gaming that goes from his old man's Atari 2600 to his Xbox One, Rafael or RAF687, our Brazilian editor, has a love for games as old as he can remember. He has already spent countless hours in many consoles (Mega Drive/Genesis, Sega Saturn, PS1, PS2 and Xbox 360) and is always ready for more (as long as his wife is asleep). Raf has been writing for LifeisXbox since 2017, with a passion for games of almost all genres – though we know he has a special place in his heart for RPGs, racing games and anything that includes pixel art. Writing about games has always been a childhood dream to Raf, dream that he has fulfilled reviewing games for you here. You can drop him a message at Twitter, Facebook or Xbox Live at any time.