Assassin's Creed: Rogue (Remastered)
Released at the end of 2014 for Xbox 360 and PS3, Assassin's Creed Rogue was the last entry of the Assassin's Creed series for the last generation of consoles. The many early adopters of Xbox One who skipped this title now have the opportunity to play as Shay Cormac, one of the most intriguing characters in the series, in Assassin's Creed Rogue Remastered. With three more titles released after this one, how does this game behave to the test of time, especially after the new benchmark set by Ubisoft with AC Origins? Let's check it in our review.
THIS REVIEW IS MADE FOR PEOPLE WHO HAVE PLAYED ROGUE BEFORE. 
THE GOOD
The main upgrade for the game is, as you guessed the graphics. Now you can enjoy and admire the icy northern territories of America in full 4K, making the already great graphics found in the Xbox 360 version even prettier. For those (like me) still playing on the 'fat' version of Xbox One, the game may not look that wonderful compared to Xbox One X, but textures and details received a considerable enhancement from original version: you'll see environments and characters with better definition and more fluid animations.
AC Rogue had some of the best music in the series and the audiophiles will have a pleasant time adventuring through this game.
The naval gameplay known from Assassin's Creed Blackflag is back, and better than never! Combat options have been expanded, both for you and enemy ships: for example, you can board their ships, but you can have your ship boarded too!
After a weaker story in Blackflag, Ubisoft turns the table and brings one of the best characters in the series: Shay Cormac is a talented but cocky young member of the brotherhood under the orders of master Achilles (yeah, the same one from AC3). Differently from other members of the brotherhood, Shay questions his missions always wondering if there is no other option but to kill his targets (the first in the creed, I believe!). After one mission ends abruptly bad, Shay turns against the Assassins and these decide to terminate his life. So Shay starts his journey to eliminate all those turned against him and becomes the most feared Assassin's killer of the story. A remarkable change of direction in the series that explains what preceded AC3.
Rogue Remastered comes with all the extras charged as DLC in the original version (weapons, clothes and customization items). As they make no difference to the game, you may not even notice them but it is nice to see them available.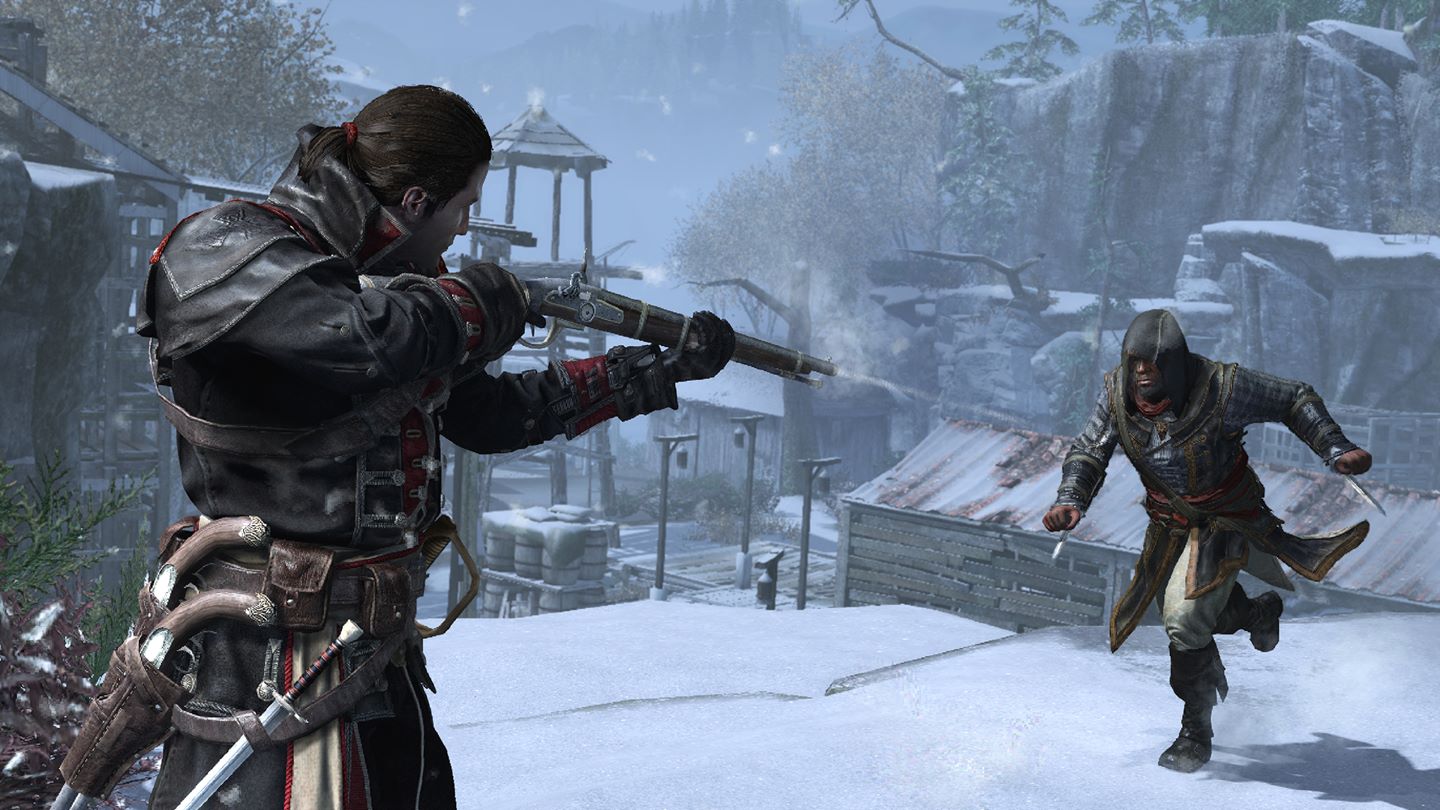 MIXED FEELINGS
After setting the level cap too high with AC Origins, AC Rogue Remastered feels like a game from a different age. An age with less freedom and more bugs (talking about you, AC Unity!). The game alone is a strong chapter in the series, but it will live under the shadow of the one who came after.
It's not the point of this review to criticize the original game, but it's worth mentioning: something that upset me by the time of its release is the resemblance to AC3 and AC Blackflag: all mechanics, movements and graphics are reused in AC Rogue. Those who played these older titles will quickly notice this copy-paste formula. They were far from bad, but talking about three games from three different ages should have some weight in these similarities.
THE BAD
Assassin's Creed: Rogue (Remastered) [Score: 6.5/10*] Those who enjoyed Assassin's Creed Blackflag (still one of my favorites) and haven't tasted what Rogue has to offer should definitely give it a try. The same can't be said for those who have already played the game in their old platform: the graphics upgrade aren't enough to encourage you for a second run. But I know that, if you're a fan of the series (like me), you won't let Shay fight his battle alone. So sharpen your hidden dagger and prepare to set sail: the brotherhood will fall over the cut of our blade! *Score for first time players is higher, this review is aimed for people who played Rogue before.
With a history of gaming that goes from his old man's Atari 2600 to his Xbox One, Rafael or RAF687, our Brazilian editor, has a love for games as old as he can remember. He has already spent countless hours in many consoles (Mega Drive/Genesis, Sega Saturn, PS1, PS2 and Xbox 360) and is always ready for more (as long as his wife is asleep). Raf has been writing for LifeisXbox since 2017, with a passion for games of almost all genres – though we know he has a special place in his heart for RPGs, racing games and anything that includes pixel art. Writing about games has always been a childhood dream to Raf, dream that he has fulfilled reviewing games for you here. You can drop him a message at Twitter, Facebook or Xbox Live at any time.