Review AQUA KITTY UDX: Xbox One Ultra Edition | I have written that name twice now, so excuse me for making things easier for me, from now on I'm writing Aqua Kitty. A game about cats that dive underwater to collect some kind of milk that is stored under the ocean. I'm pretty sure that's a sentence that you didn't see coming. Let's take a deeper look with this Aqua Kitty review for Xbox One.
Let's make one thing clear first, milk isn't healthy for a cat. The game is one big advertisement to give milk to your precious cat, don't do that 😉 This is also the first time I played Aqua Kitty, so I can't comment on the new stuff and visuals in this Ultra Edition compared to previous versions.
THE GOOD
A bizarre unrealistic and crazy story is the reason why we are playing as a cat in a submarine. It's a wonderful concept that makes the game stand out. You'll need to defend the cat milk miners from all the robotic fish enemies, like I said crazy but so hilarious.
Absolutely gorgeous pixel-art visuals bring the game alive. The combination with shooting and surviving below the ocean and seeing the often beautiful skylines above the ocean is an effective visual experience.
Gameplay is a journey back to the old days of gaming, Aqua Kitty is a 2D shooter that turns the difficulty crank higher with each level. Testing your reflexes and attention span. Surviving is one thing, making sure that all the cat milk miners don't get kidnapped is another daunting task. It becomes a little stressy after a while, but that's not a bad thing. The urge to continue after a death is very high so expect to spend quite a few hours killing robotic fishes! One thing is for sure, when it comes to retro-2D-shooting games Aqua Kitty is one of the best on Xbox.
Aqua Kitty is an overall great package, one great example is the sound and music. It totally captures the feeling from modern-day and the good old gaming days. It was a joy hearing the music while playing the action-packed gameplay.
It's a little bit weird at first but after a few minutes the controls feel second nature and provide accurate and easy control. The developer had the excellent idea to make your submarine turn with the LB or RB buttons, so you only use your analog stick (or D-pad) for going up and down., giving you better precision.
Most developers overcharge games, Tikipod provides a lot of content for a very cheap price.  The Story Campaign, Arcade mode and new for the Ultra edition mode are 13 levels for Dreadnought. Local co-op and infinite survival levels. Hours and hours of gameplay!
Mixed Feelings
Aqua Kitty is one of the best in the genre but be aware that not everyone likes repetitive gameplay. Not much new happens throughout the game, things just get harder and harder.
Local co-op is a great feature but the game is too hectic and difficult to use it correctly. Things would have been much better if it had split-screen, I understand that it would make things much more easy though, so that's likely the reason why the developer didn't do that. Now you share one screen making it a little bit harder than it should to quickly go left or right. It's still a fun and interesting feature though.
THE BAD
Dogs will not like this game.
Score: 91% | AQUA KITTY UDX: Xbox One Ultra Edition is one of the best in the genre. Developer Tikipod can be damn proud for making this cat diving shooter.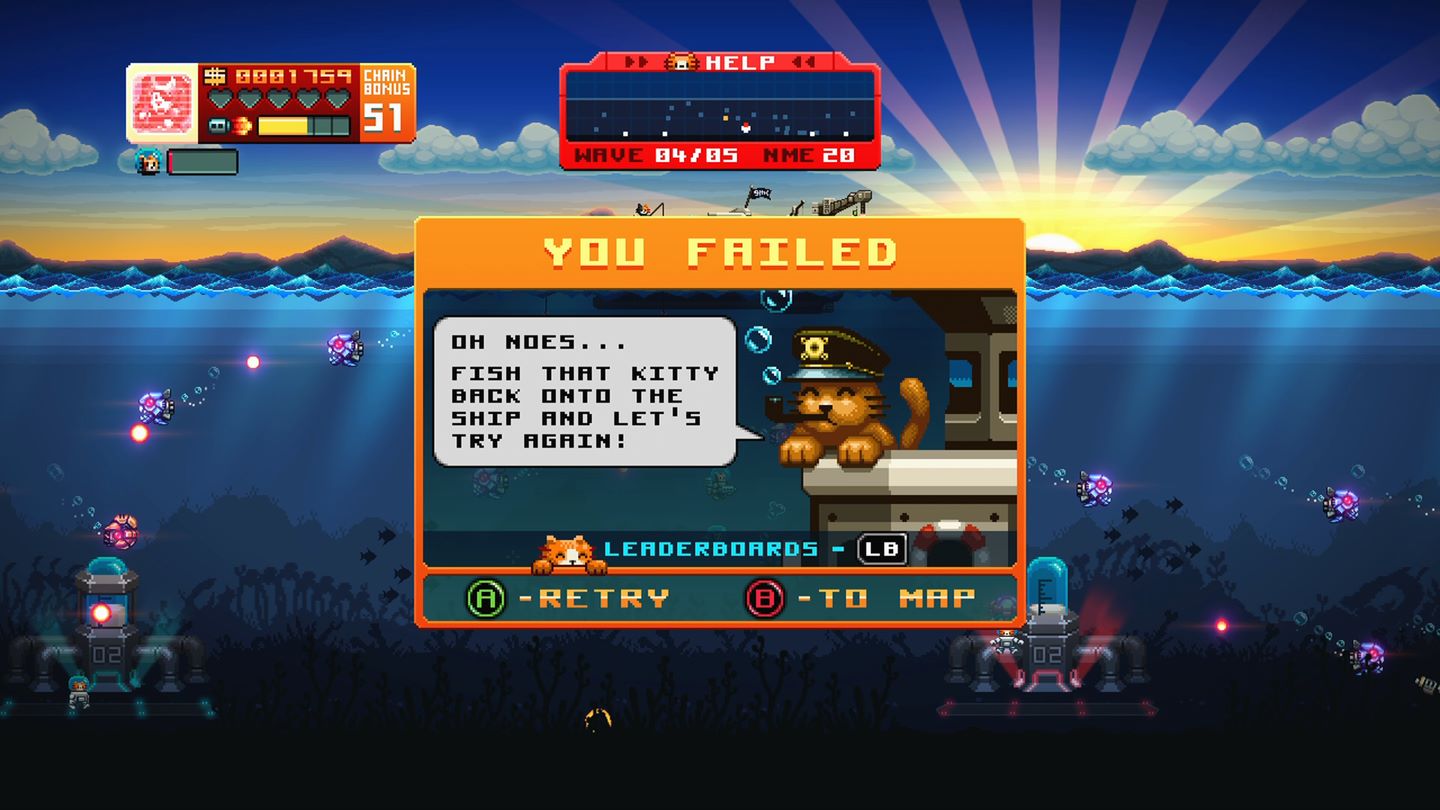 Founder | Editor-in-chief | Social Media Manager
Gaming is a passion and I wanted to share my Xbox enthusiasm. That's why I started LifeisXbox, to make sure gamers all around the world know what games they should buy or avoid. I would like to thank you for visiting my website. Your support is very welcome and I hope you stick around!