Super Night Riders is a retro racer with motorbikes, made by just one French guy. Let that not fool you, Xbox One has a few pretty good games made by one guy. But is Super Night Riders one of them? Let's find out in this review!
---
Developer: neko.works
Publisher:  neko.works
Size: 246 MB
Price: $10
I played Super Night Riders three hours before writing this review, LifeisXbox received a review code from the developer.
---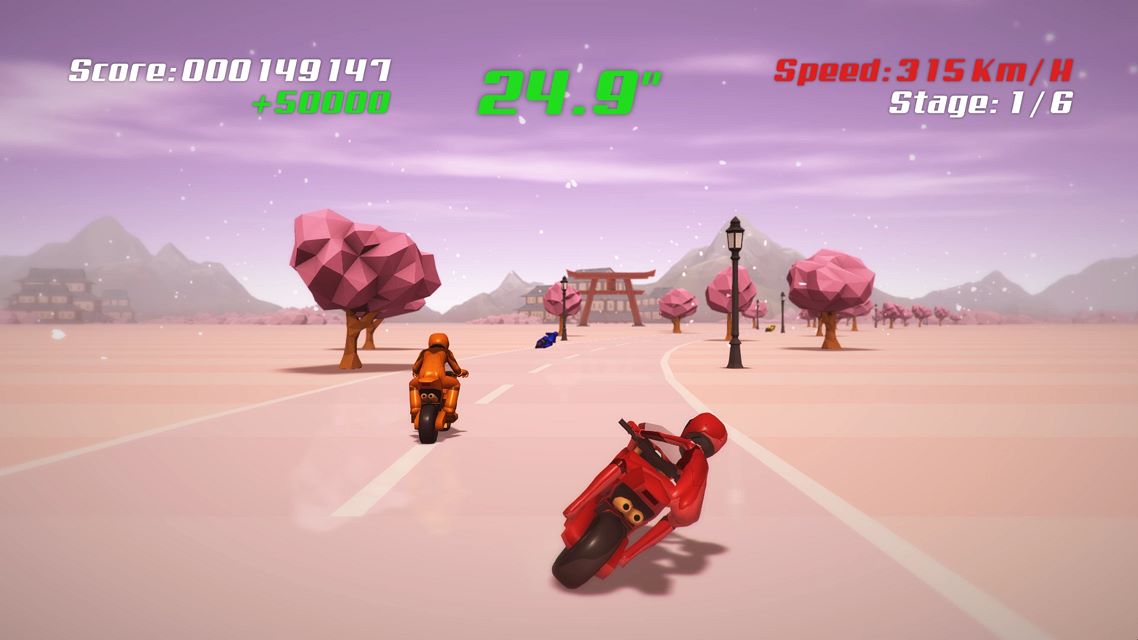 THE GOOD
Super Night Riders is clearly inspired by old videogame racers, my Pole Position (Namco) memories came back while playing the game.
The game requires your full concentration, beating the counting clock with high speed gameplay brings excitement that you don't have with other racing games.
Soundtrack
THE BAD
It's a shame that avoiding other motorbikes doesn't require skill, you just need to memorise the patterns.
Visuals are very repetitive, I did like the art style though,more variation would have been welcome.
Visuals aren't the only thing that's repetitive. Sadly the gameplay becomes rather dull after a few stages.
Some annoying frame rate stuttering that cause distraction and frustration.
$10 isn't much in today's gaming industry (on consoles) but it's still a little on the expensive side for what you get.
The motorbike sound is simple terrible, I think it's a recording from a vacuum cleaner.
Conclusion
Score: 31% | Super Night Riders is only for gamers that want to experience old school racing videogames. I really respect the developer making the game alone but that can't be an excuse. GunWorld 2, Thomas Was Alone and Dust: An Elysian Tale proof that one person developers can bring out good games too.
Founder | Editor-in-chief | Social Media Manager
Gaming is a passion and I wanted to share my Xbox enthusiasm. That's why I started LifeisXbox, to make sure gamers all around the world know what games they should buy or avoid. I would like to thank you for visiting my website. Your support is very welcome and I hope you stick around!