Pro Evolution Soccer 2019 (PES 19)
Konami releases yet another improvement in the Pro Evolution Soccer franchise, the never-ending battle between this and Fifa continues and I will spoil the outcome, EA needs to do some  catching up. Want to know more? Or just like to see some more screenshots from Barcelona's Coutinho? Read our review!
What do you do?
Pro Evolution Soccer 2019 lets you play the most beautiful sport game in the world, football. You have the option to play as the entire team, as one player or as the manager from a football club, for example Arsenal or one of the many non-licensed teams.
What is good?
AI: PES has always been superior with the intelligence from computer teammates. They actually make smart runs into the open or try to fix your own mistakes in an instant. Things have yet again been improved, especially the goalkeeper.  Depending on the pre-match tactics you really see the difference between player positions and how actively they pressure the other team or how wide they keep the playing field.
Animations: I'm still in awe with the fluidity of the animations, how everything smoothly transitions into one movement is really impressive. INSIDE from Playdead has been beaten by PES 19 when it comes to believable animations. Ball physics and the visual density make it a very impressive and realistic game to watch.
Visuals: Licensed players and legends look absolutely fantastic, it is hard to tell the difference between a real player or the one in the videogame. The grass pitch looks realistic and dense, especially in replays you really see the detail. The FOX Engine makes PES 19 the most nice looking football game (and maybe even sports game) on Xbox One!
True football! Bold statement but true lovers of football will enjoy Pro Evolution Soccer more than Fifa. It is more realistic, slower-paced, better with tactics and more. The game just plays how you should play a football game in real life. No unrealistic dribbles starting from the midfield line (hello Fifa) in PES you actually need to think how to play the ball. If Fifa didn't have all the licenses Pro Evolution would have been the perfect football game!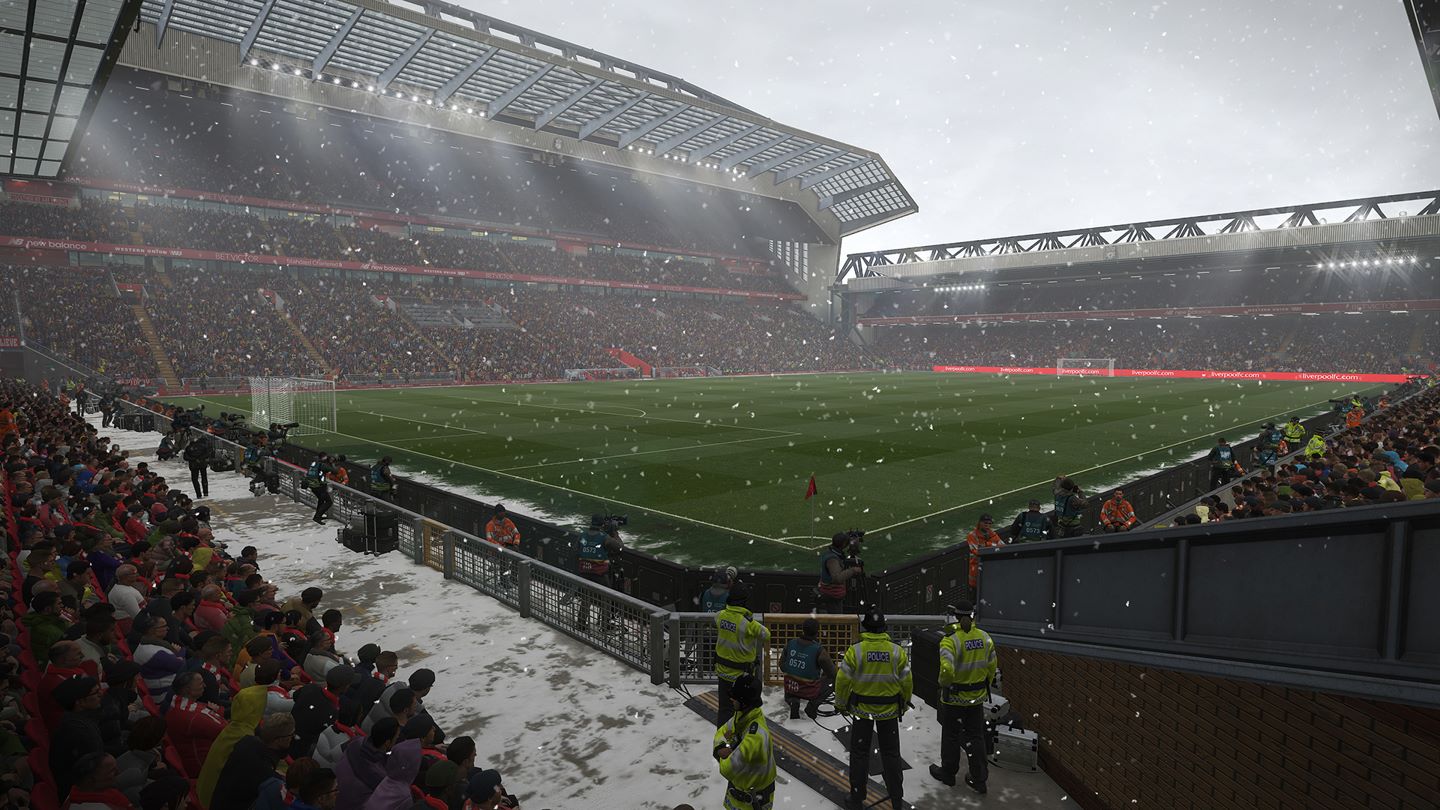 Mixed feelings
Licensing: Konami had a pretty major blow losing the Champions League license. PES has a few real life teams like for example Barcelona and Arsenal but compared with that other Football game it is really disheartening to see the Premier League with false names. It seems that Konami doesn't really do any effort either, would it be that hard to at least have the correct kit colours for Man Blue or Man Red? The average sport game buyer doesn't even care if PES plays or looks better than Fifa, all they want is to play with their favorite team.
---
The official licensed leagues and team partners in PES19
Leagues: (with real player names, teams and kits) Russian Premier League ▍Quilmes (Argentina) ▍Toto Super Lig  ▍Superliga ▍ Liga NOS  ▍Raffeisen ▍Ladbrokes Premiership ▍Jupiler Pro League ▍Scotiabank (Chile) ▍Compeonato ▍Ligue 1 and Domino's Ligue 2 ▍Eredivisie ▍AFC Champions League
Team partners: (Official names, kits, stadiums) Arsenal ▍AC Milan ▍Liverpool  ▍Schalke 04  ▍Inter Milan ▍Monaco ▍Celtic ▍Rangers ▍Corintians ▍Flamengo ▍Palmeiras ▍Sao Paulo ▍Colo-Colo ▍River Plate ▍Alianza Lima ▍Sporting Cristal and indepeniente. 
---

What is bad?
Confusing and boring menus: They just don't seem to get it. Each year the menus look like a boring excel document from high school. Static screens with lots of different boxes that lead to other boxes, if they could make it a little bit more alive or fancy than it would be a much better experience.
Commentary: I said it last year and two years ago, the commentary is nothing less than terrible. Repetitive and always talking about wrong actions, my advice is to immediately turn off the commentary because it takes you out of the immersion. Fifa's commentary isn't great but is a lot more meaningful and less random. I understand that it is hard to get the commentary right, in my opinion no sport game has released it perfectly but I expect much better from Konami.
myClub: Inferior in what it is supposed to copy, Fifa's Ultimate Team. Konami's PES has a few Fifa has this, so let us include it in our game too but nothing is worse than myClub. It just never feels as addictive and worth playing, sure making your dream team goes a lot faster but at the same time that isn't worth much because the online bidding is incredibly less active and finding online players is simply awful. Just like shooters it is never a good idea to split your online community and despite the low but healthy online players from PES they have divided it way too much in all the different online matchmaking lobbies.
PES 19 [Score: 90/100] Konami has been doing a fantastic job with Pro Evolution Soccer for years now, the 2019 edition has been improved yet again! It is the best football experience that you can play on consoles. 
Founder | Editor-in-chief | Social Media Manager
Gaming is a passion and I wanted to share my Xbox enthusiasm. That's why I started LifeisXbox, to make sure gamers all around the world know what games they should buy or avoid. I would like to thank you for visiting my website. Your support is very welcome and I hope you stick around!