Review Pro Evolution Soccer 17 | Each year football-fans are spoiled with PES and Fifa games. This year, Konami's PES made a huge jump ahead with new gameplay mechanics and fully licensed teams like Barcelona. Providing an incredible gameplay experience, you need to play to believe it! Drop your eyes on this review and find out why you need to buy Pro Evolution Soccer 17.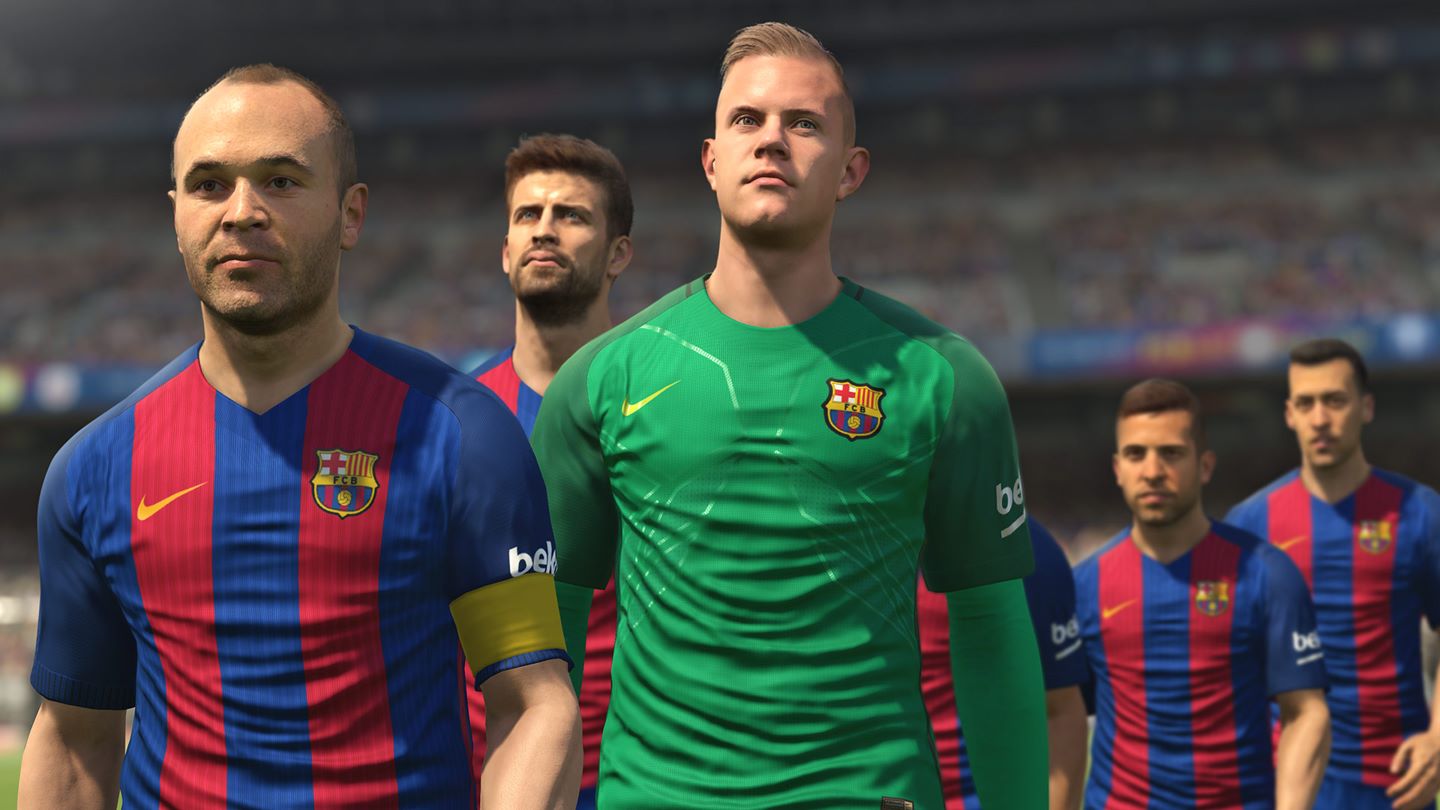 THE GOOD
The most intelligent football game that I played. Seriously, the game has surprised me multiple times with some smart and life-like football tactics that I previously only expected from real opponents. From actively using the goalkeeper, triangle play or clever running without the ball. Huge props for the developer for making a believable Artificial Intelligence.
Incredible smooth animations. I have to be honest and say that I played a lot more Fifa in the past years. Fifa-players will know what I mean with "freezing players", even with the latest Fifa 17 players sometimes get stuck in a specific animation. Losing a second or two before you can fully control the player again. I haven't seen a single thing like that with PES 17. You have full control and everything looks and feels butter smooth while playing.
Konami really improved the goalkeepers and it totally shows. Split-second reflexes, save animations while laying on the ground, close action saves, leg saves, I could go on and on. Never did I fear that a goalkeeper would make a mistake when the opposition found its way to the goal. I really feel that I can trust them, the first time ever while playing a football game.
Learning to play PES 17 is a rewarding mission. Scoring goals won't be easy and you really need to use your football intellect and come up with tactics. Compared with Fifa, PES is much more realistic and fluid.
Mixed Feelings
Konami is really doing efforts solving the licensing issues, providing the Champions League for example. I still miss more real teams but you have quite a few fully licensed teams. More would be more than welcome but I prefer better gameplay over a face that fits the player.  You can also fix the kits yourself, it's a little time-consuming but possible.
EA's FUT-mode for Fifa is still far superior when you compare it with PES MyClub but I still had my enjoyment out of it. The facial models are very impressive and the prettiest things you'll see in the game. How you find players for your club is a well designed mechanic with scouts. Realistic and easy for searching for what you need. It's a very solid game mode but I missed some more unique things to do. If Konami wants to overtake Fifa it really needs to make MyClub mode stand out more.
Faces from real players look fantastic but I couldn't shake the thought that everything looked a little bit blurred. It's cool to see some details while the replays are running but PES isn't really a stunning beauty. The performance is top-notch, so I'm not saying anything bad about that. All the menu's look great and intuitive, a real massive improvement when you look at previous PES games.
THE BAD
I'm not a fan for the ignorant referees. I have received some horror-tackles that would be the end of a footballer's career, the referee however didn't see it. I'm not sure if the game decides to be very merciful, it could be a bug with the physics engine too.
After a few matches I muted the commentary, always saying the same things over and over again. Drury and Beglin have heartwarming voices but I think everyone will get tired of hearing the same sentences every single time.
Score: 90% | Despite all the mixed feelings I listed, I can still easily say that no other game can give more realistic and smooth football gameplay. Pro Evolution Soccer 17 is a big milestone and Konami can be very proud. I sincerely hope that more football-fans go out and buy this, it's totally worth it.
Founder | Editor-in-chief | Social Media Manager
Gaming is a passion and I wanted to share my Xbox enthusiasm. That's why I started LifeisXbox, to make sure gamers all around the world know what games they should buy or avoid. I would like to thank you for visiting my website. Your support is very welcome and I hope you stick around!