Review FlatOut 4: Total Insanity | The insanity of FlatOut finally hits the Xbox One. Now produced by three different game studios French developer Kylotonn Racing Games, Canadian developer Strategy First and Tiny Rebel Games, the 7th installment of the series brings one of the craziest racing games you've ever seen in your console. Fasten your seat belt and turn on the radio while I take you for a quick ride through this game.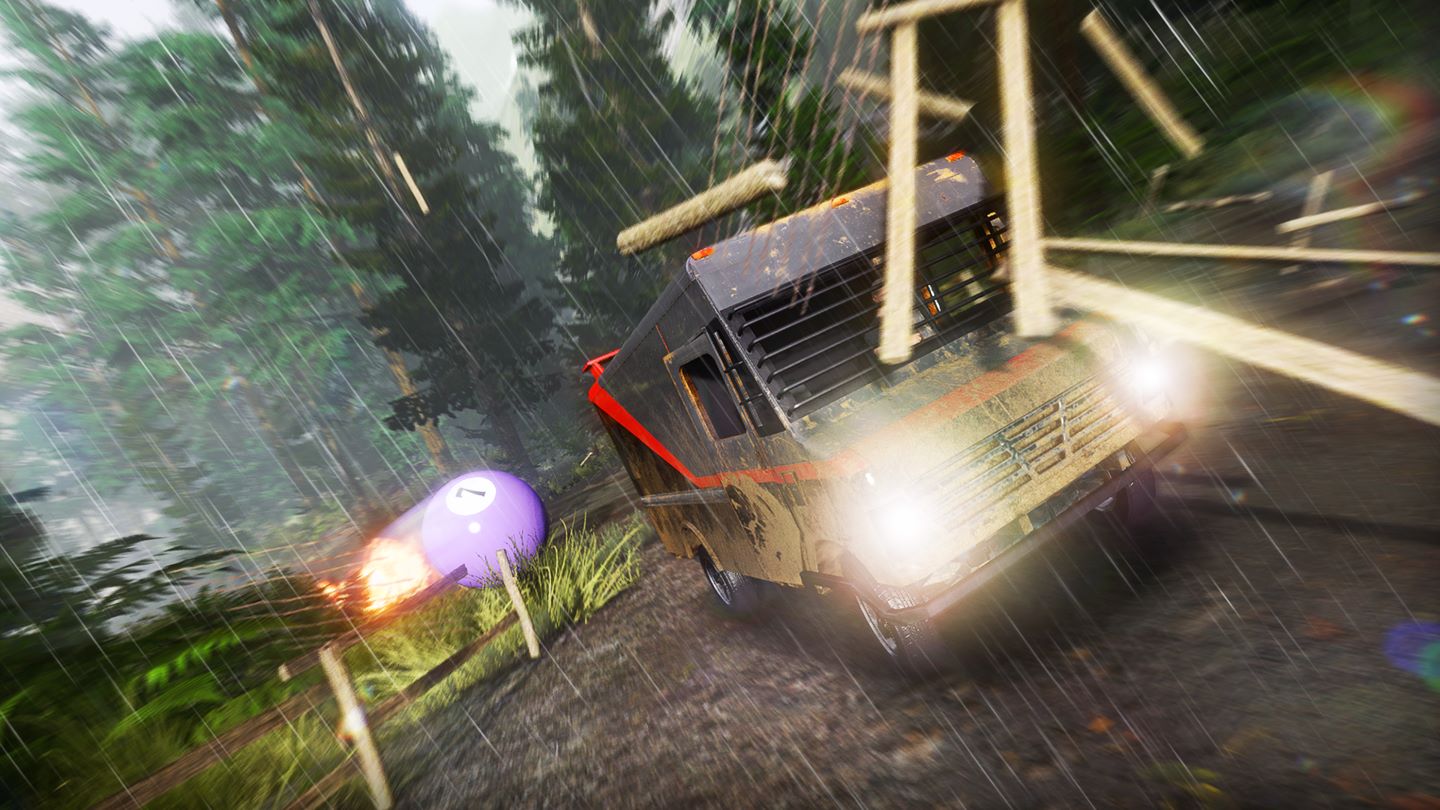 THE GOOD
If you've already played one of the previous versions of FlatOut, you know what to expect from this one. The career, multiplayer, arena and mini game modes are all here: just better, faster and more visual impressive! If this is your first time into the FlatOut world, here's a short explanation: the game is all about speed and destruction. The bigger, the better! Collisions and destruction fills your nitro bar, which makes a big difference while you're fighting for the 1st place in one of its 20 tracks.
The visuals of the game are incredible. Both interactive and non-interactive parts of the game received great attention from the developers. Visual effects like the nitro boost or the water jets when you go through pounds are absolutely amazing!
You've got a decent number of cars to choose from buggies, compacts, monster trucks, jeeps and much more. Divided in three categories (Derby, Classic and Allstars) you start with only 6. With the money you receive in the career mode, you can buy new ones or upgrade your favorites. You can also customize their paintjobs, horn sound, pilot appearance and visual effect of the nitro. With status varying from top speed, acceleration, maneuverability, nitro, durability and strength, they feel different from each other, giving them a real identity.
The game has an extensive playlist of licensed songs from bands like Raygun Cowboys, Gutter Demons, Twin Atlantic and Dead Glitter. The rock and roll variation played by all the bands suits the pace of game.
The tracks are very different from each other. You'll race through deserts, canyons, industries, forests, mountains and cities, with different terrains like mud, snow and asphalt (which indeed feels different while you're trying to control your car) and weathers.
The minigames are really funny! You can spend hours playing with up to 8 friends in the party mode, where your pilot becomes a ragdoll, you can throw the poor guy through your windshield to make him fly through fire rings, a pool table, a swimming pool or a golf course, just to mention a few, while competing for the high score. Even my girlfriend, who actually isn't into games, had a lot of fun with these ones.
FlatOut 4 delivers a good number of game modes too: by racing variations you've got the pure race mode, the assault mode where guns become available to make the race even chaotic, the carnage mode in which you gain points by causing as much damage as possible, and two variations of time attack. In the arena, you have the survivor mode, the flag bearer mode and, my favorite, the deathmatch mode. So, if you get tired from racing, you can enjoy any of these other modes.
MIXED FEELINGS
The gameplay is funny. In the early races and tournaments, the AI goes easy on you and is very forgiving. In the later levels, the game will require a lot of skill becoming even, sometimes, punitive. We can say that the learning curve is prominent: while it provided me with neat challenge, I'm afraid it can pose as a barrier for others.
Most of the cars and tracks, not to mention the arena mode, comes locked in the quick play. I understand the developer choice to make you try  the career mode first and FlatOut mode afterwards (a 'second career', only with more variation) to unlock everything. But if you want players to try out (and like) your game, I believe more options should come available right from the beginning.
The prize money for winning races isn't really a lot. So, you may find yourself farming for money to buy cars that can keep up with the competition.
THE BAD
It seems to be a tendency in racing games nowadays, you can't play any race modes on split screen. All the local multiplayer modes are turn based  mini games. When playing the first two games more than ten years ago, I understand we didn't have consoles with enough CPU power to support a split screen game of this quality. However now we do. So not having split screen on a race game nowadays is almost unforgivable.
The destruction of the game's structures is very convincing but with a few negatives. with fences sometimes getting stuck in your car. The houses you destroy seem to be made of paper. It's a detail that always caught my attention during the race.
Score: 80% | It's great to see how KT Racing Games can deliver not only incredible drive simulators like WRC 5 and 6 but also a great arcade game like FlatOut 4. And what's best: it is as good (for me even better) than the first two games of the series. It's a fun race game, with a good amount of challenge. They were able to perfectly revive FlatOut. It has some flaws and may feel repetitive over time, but it's above all a game that's incredibly fun to play, be it alone or on its limited multiplayer.
With a history of gaming that goes from his old man's Atari 2600 to his Xbox One, Rafael or RAF687, our Brazilian editor, has a love for games as old as he can remember. He has already spent countless hours in many consoles (Mega Drive/Genesis, Sega Saturn, PS1, PS2 and Xbox 360) and is always ready for more (as long as his wife is asleep). Raf has been writing for LifeisXbox since 2017, with a passion for games of almost all genres – though we know he has a special place in his heart for RPGs, racing games and anything that includes pixel art. Writing about games has always been a childhood dream to Raf, dream that he has fulfilled reviewing games for you here. You can drop him a message at Twitter, Facebook or Xbox Live at any time.