Fifa 18
Alex Hunter is back, the story continues! While  Fifa 18 doesn't bring much new features, it still has enough changes and tweaks to warrant a new purchase. Not all is roses and sunshine though, read more about that in this Fifa 18 review. 
THE GOOD
The Journey makes a glorious return with beautiful cut scenes, a pretty deep (and emotional) story and some small but great changes. The nine to ten-hour story mode is interesting enough even for gamers that don't really enjoy football. I know, I know.. nobody is buying Fifa without loving football but still, a good story, no matter what genre should be applauded. Especially with the online focus from games lately.
Visually Fifa 18 is outstanding, adding to the already impressive looks from Fifa 17 is more detail for the crowds, better lighting and even crisper textures. The immersion is fantastic and I am sure that you can actually fool people into thinking they are watching a real match, it looks that great. It sounds that great too, the sound is exactly like looking at a real football match on TV.
Something that has been completely remade is the crossing, you now control the height of the ball in a different and more natural way. Teammates use the open space much more efficiently and it is much more satisfying to pull of a great cross. As a wing-player I'm really glad that I have much more control and available tactics to choose from.
I can't imagine the costs but as always Fifa 18 is completely authentic. You have over 700 playable clubs and countries. New this year is the inclusion of the third Liga from Germany, Royal Antwerp FC from Belgium, the Iceland national team and a few others. Real kits, recognisable faces and more. (That said, I don't understand why Napoli revelation Dries Mertens isn't remade in the game) It is a big selling point for the game and something that the competition is lacking, Pro Evolution Soccer is trying to solve this issue but for now the difference is
Every action, move and shot has a realistic weight, this isn't a new feature but Fifa 18 perfected it. It has such a big positive impact on gameplay and this is the main reason why Fifa plays really different.
 The great thing about Fifa has always been the online play, this isn't any different with Fifa 18. It is such a joy to play with friends or strangers. You will have to deal with aborters, people playing with fast players and the random mic screamers but the matchmaking, online netcode and possibilities are awesome.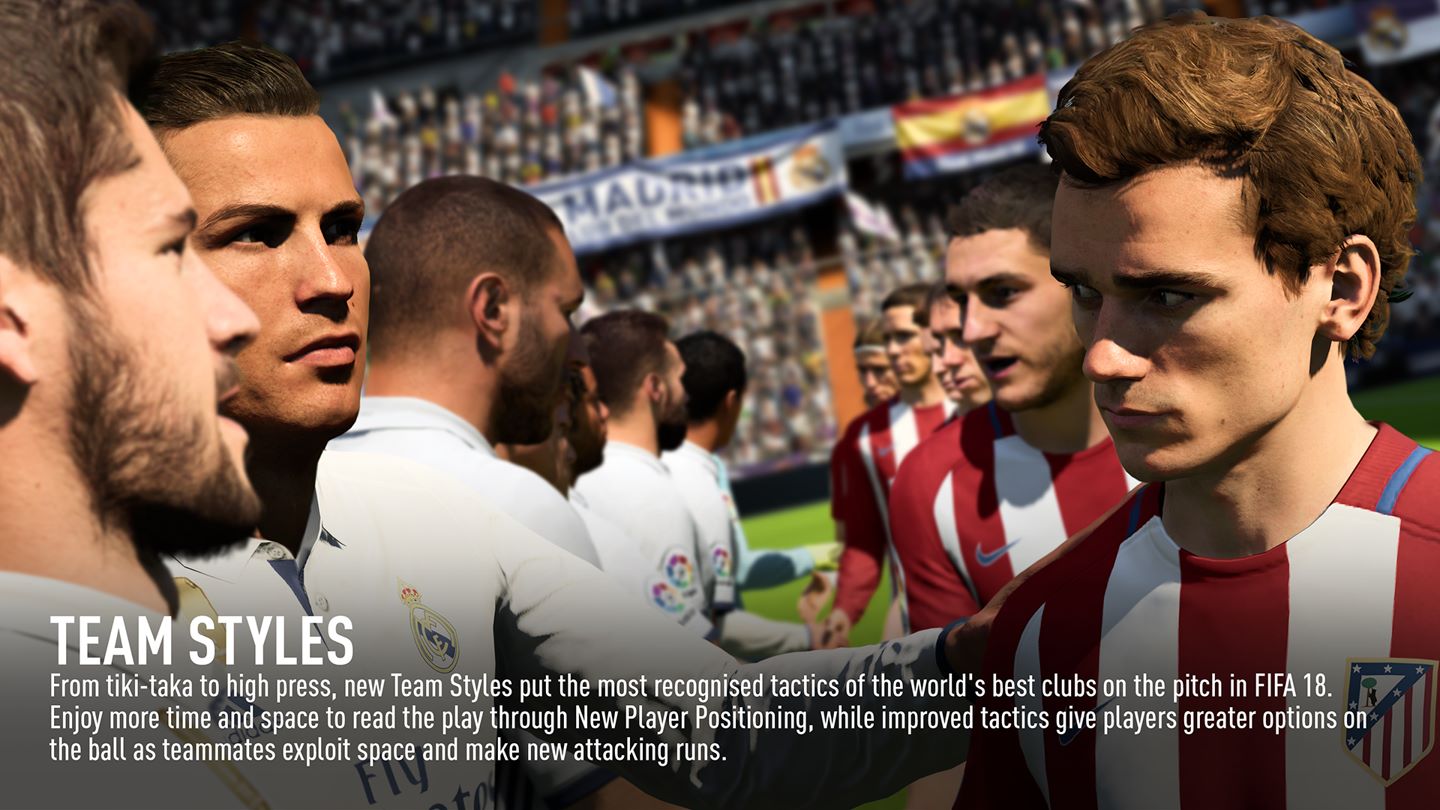 Mixed Feelings
Fifa 17 was a monumental change,  the new Frostbite engine, The Journey and a lot more. This year besides the odd few new features, for example the quick sub, only sees improvements in all departments.
The new Real Motion Player feature is a fine piece of technology that helps you recognise players, Ronaldo's running animations for example. You have a few other top players that have this feature but not nearly enough to be really beneficial. I understand that this feature is time-consuming but a little bit more players would have been welcome, now it feels like an only for elite gimmick.
There is no denying that hearing the voice from your favorite football player is cool, for example Ronaldo or Ferdinand but the voice acting is hilariously bad in The Journey.  Early in the beginning Alex Hunter speaks with Ronaldo and I was laughing by how bad it was.
Animations are really mixed, some animation work is very impressive but at the same time you have some very strange-looking goalkeeper or goal celebration animations. Luckily the goalkeepers have been improved, I do have an issue with how easy you can score with low shots though.
THE BAD
Attacking has been made so easy, with intelligent runs from team players, easy to control ball handling and quick to execute passing that the defending is too difficult. The timing and luck involved for defending properly is not my cup of tea. This becomes even more problematic in online games. Most of the players abuse fast players, so prepare to be annoyed by constant speedsters.
Even more than before I got the impression that Fifa 18 had a lot of scripted gameplay. I made some beautiful goals but it never felt genuine, this is such a strong point from Pro Evolution Soccer and really lacking in Fifa.  Shooting a volley in the top corner feels great but it happens way to often to be realistic.
Fifa 18 left me with a little bitter taste, while the game is really enjoyable to play the defending could have been much better.  The atmosphere, visuals and sound are outstanding and the online play is unmatched and really fun.
Founder | Editor-in-chief | Social Media Manager
Gaming is a passion and I wanted to share my Xbox enthusiasm. That's why I started LifeisXbox, to make sure gamers all around the world know what games they should buy or avoid. I would like to thank you for visiting my website. Your support is very welcome and I hope you stick around!