Review Clicker Heroes | After 2 years available on PC and mobile, Clicker Heroes from the Californian indie dev Playsaurus comes to Xbox One. And what's best, it's a free game, like in the other platforms. Chances are that you have already tried this on your laptop or cellphone. If not, is it worth your time? Let's take a look together.
The good
The game is very colorful, with child oriented graphics. Enemies could be easily introduced into any Pokémon game. Your main character, Cid, and all the other heroes you hire for your group, have a nice appearance that resembles to a Japanese RPG.
The game controls and mechanics are very simple. You use one button to attack and other to buy upgrades and activate abilities. With the triggers you change the zones you're in, what works like levels. With the bumpers, you can switch the tab shown on the right side of the screen between Upgrade, In game achievements (that doesn't count to Xbox Achievements… at least most of them) and Statistics.
As other titles of this gender, the game keeps up storing gold for you even when you aren't playing it, what saves you time to do (or play) other things.
The strategic part of the game is in what order you upgrade your characters and buy them new skills. Maybe you want to double everyone's DPS (damage per second) before giving them a permanent boost. Or maybe you want to focus on your attack instead of depending so much on the time. It's totally up to you.
Have I mentioned the game is free to download? Different from some other games that are simple ports and charge you (shame on you, Tiny Troopers!), this, at least, is a port that you can play for free.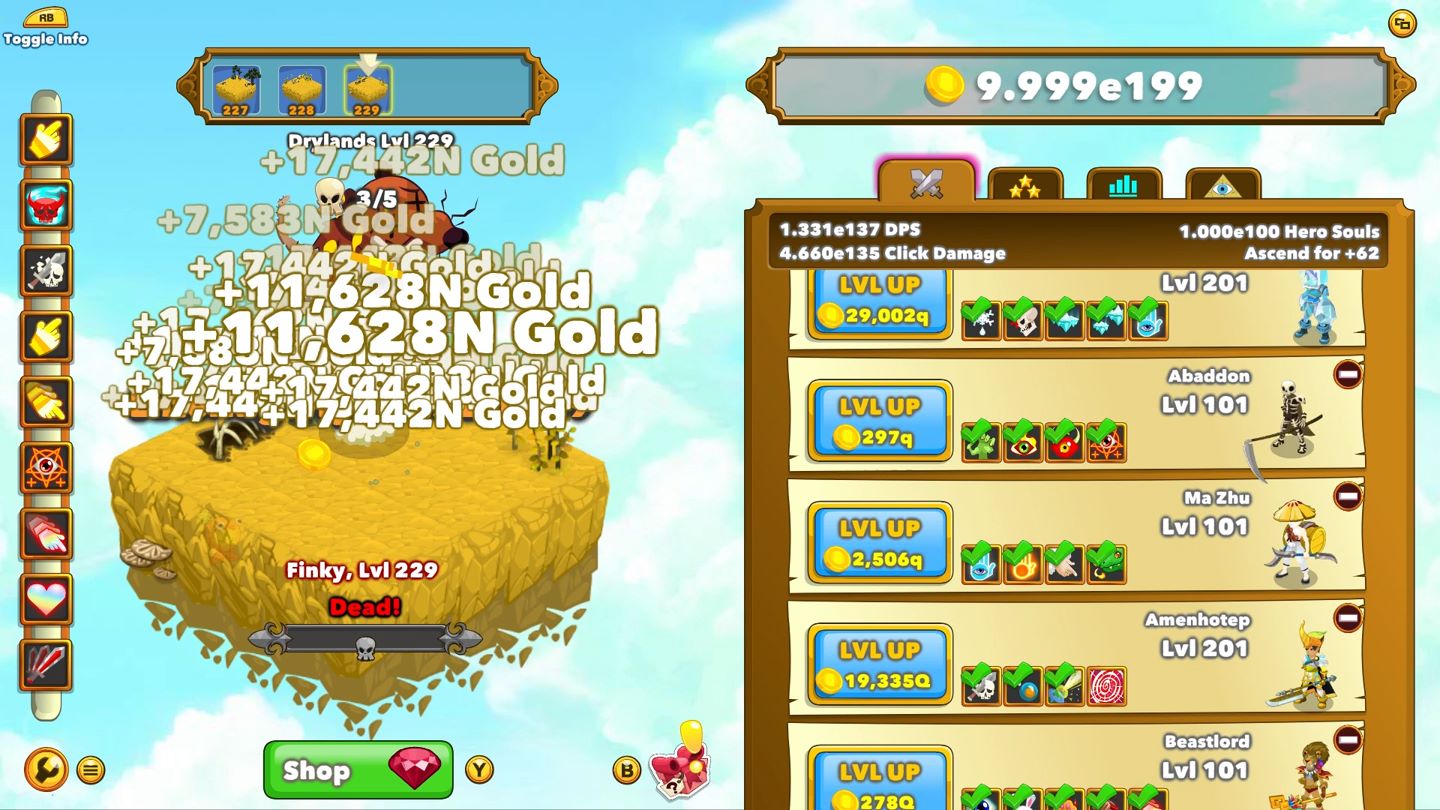 Mixed feelings
The simplicity of the game is also its main flaw. You are always looking to the same menu, with upgrades and new heroes to buy on the right side and a colorful monster on a floating piece of land on the left. And that's it. You see the life bar of the monster depleting (with speed varying on your DPS) at the inferior and the level you're into and money you have on the top. And that's all.
The background music is pleasant and the sound effects of your attacks are ok. And that's all you've got related to sounds. The developers could have worked more and added more variety to the game.
Talking about variety, there's only a limited number of enemy models, with little variation. Like in the old days, you've got an enemy with many color variations to show it's a new one, stronger than the last one.
The bad
The game is all about pressing the X button over and over and over and over and over… well, you got it. That's everything you do during the game. And that's it.
The game doesn't have a story. You don't know why you're fighting those endless waves of enemies. And none of your characters gives you any clue of what is happening. Not even in the site of the game.
In later levels, it takes tons of gold to upgrade your heroes. And to get that much gold, you need time. A lot of time. Better not to mention the time needed to get the achievements…
I'm not saying the game is punishing. If you want things to go faster and easier, you can buy crystals with your real money and, with them, buy the upgrades you need. And this, my friends, is something I really don't appreciate: paying to win. But the game is based on this premise.
It takes no effort, no skill or reflexes to advance in this game. It only takes patience (a lot of it) to enjoy and progress on it.
Score: 30% | Clicker Heroes is a game where you sit and watch the game play for itself. It's a gender of game that is clearly not for everyone (not for me!). But it has its fans. If you enjoy this specific type of game and was willing to play one on your Xbox, here's your chance. If you're a completionist, like me, I'd recommend you to keep away from it… Far away.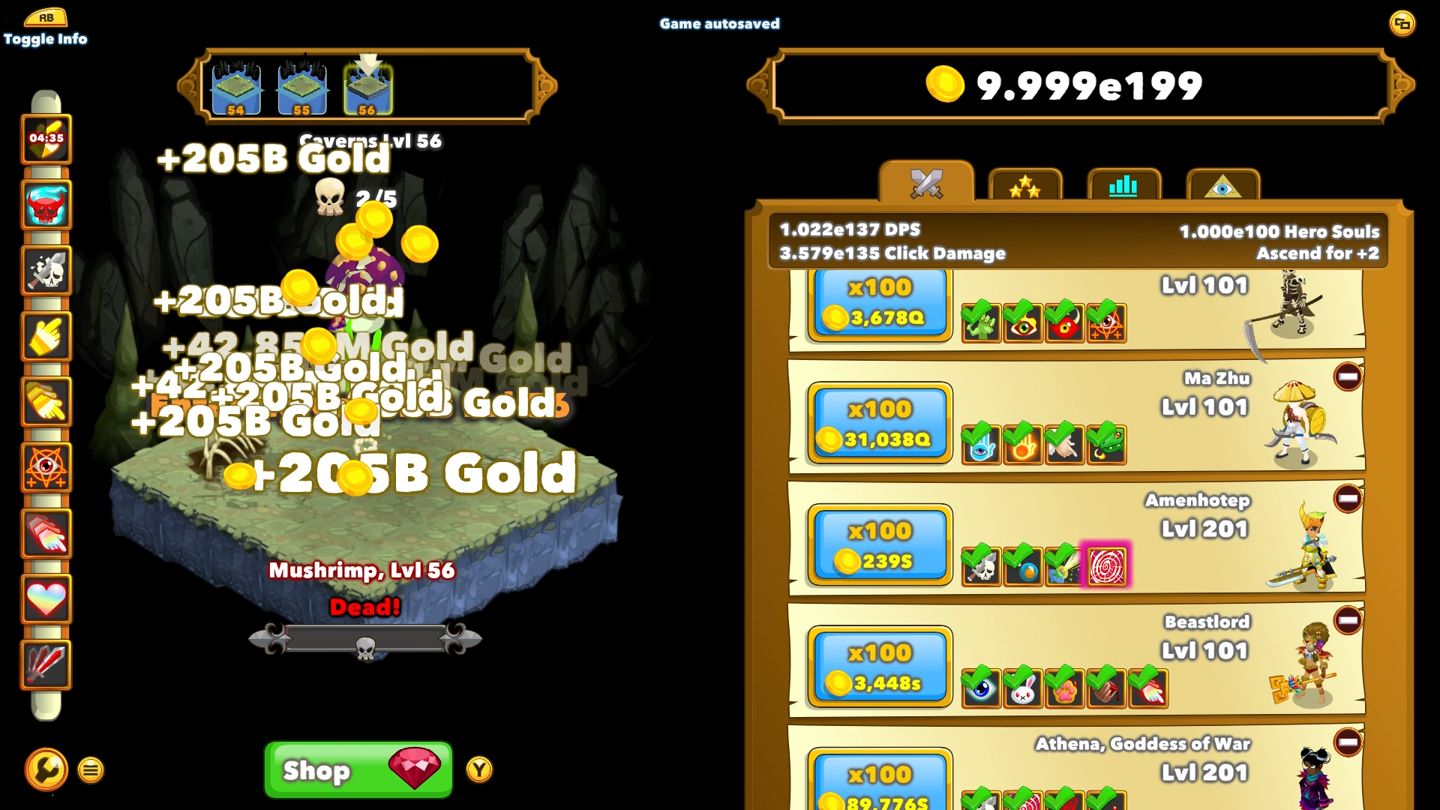 With a history of gaming that goes from his old man's Atari 2600 to his Xbox One, Rafael or RAF687, our Brazilian editor, has a love for games as old as he can remember. He has already spent countless hours in many consoles (Mega Drive/Genesis, Sega Saturn, PS1, PS2 and Xbox 360) and is always ready for more (as long as his wife is asleep). Raf has been writing for LifeisXbox since 2017, with a passion for games of almost all genres – though we know he has a special place in his heart for RPGs, racing games and anything that includes pixel art. Writing about games has always been a childhood dream to Raf, dream that he has fulfilled reviewing games for you here. You can drop him a message at Twitter, Facebook or Xbox Live at any time.