Review: RWBY: Grimm Eclipse | I have to be honest and say that the world of Remnant was completely new for me. After some Google searching I found out that this Rooster Teeth RWBY series is pretty popular. So please note,  I'm writing this review without prior series knowledge. That said, I had an enjoyable time with Grimm Eclipse, despite some negative elements. Read more in this review!
THE GOOD
For a Hack 'n Slash game RWBY: Grimm Eclipse is really challenging and fun. Sure, like all games in this genre things can become repetitive but they fixed that with some aggressive and quite difficult enemies. You'll have to dodge and time your attacks correctly or else you won't make it far. You have a limited tree-branching upgrade system that spices things up a little. I do have to admit that I have a weak point for Hack 'n Slash games, Dynasty Warriors for example. While RWBY doesn't bring anything new to the table it was a very enjoyable combat system to learn and master.
Typically I have to write that a game like this doesn't have online play, not the case now though! This game has full online support so you and three other friends can survive waves or complete the story mode. A four player co-op game is pretty rare and the developer executed it pretty well, I rarely had online issues or disconnects. (You can't select what story mission you want to play though, an oversight?)
Mixed Feelings
RWBY: Grimm Eclipse graphics are very mixed, environments look pretty basic and a little empty but character models and visual effects look pretty. Sometimes I had the feelings that some locations were a little bit rushed, luckily the enemies and main characters make up for it.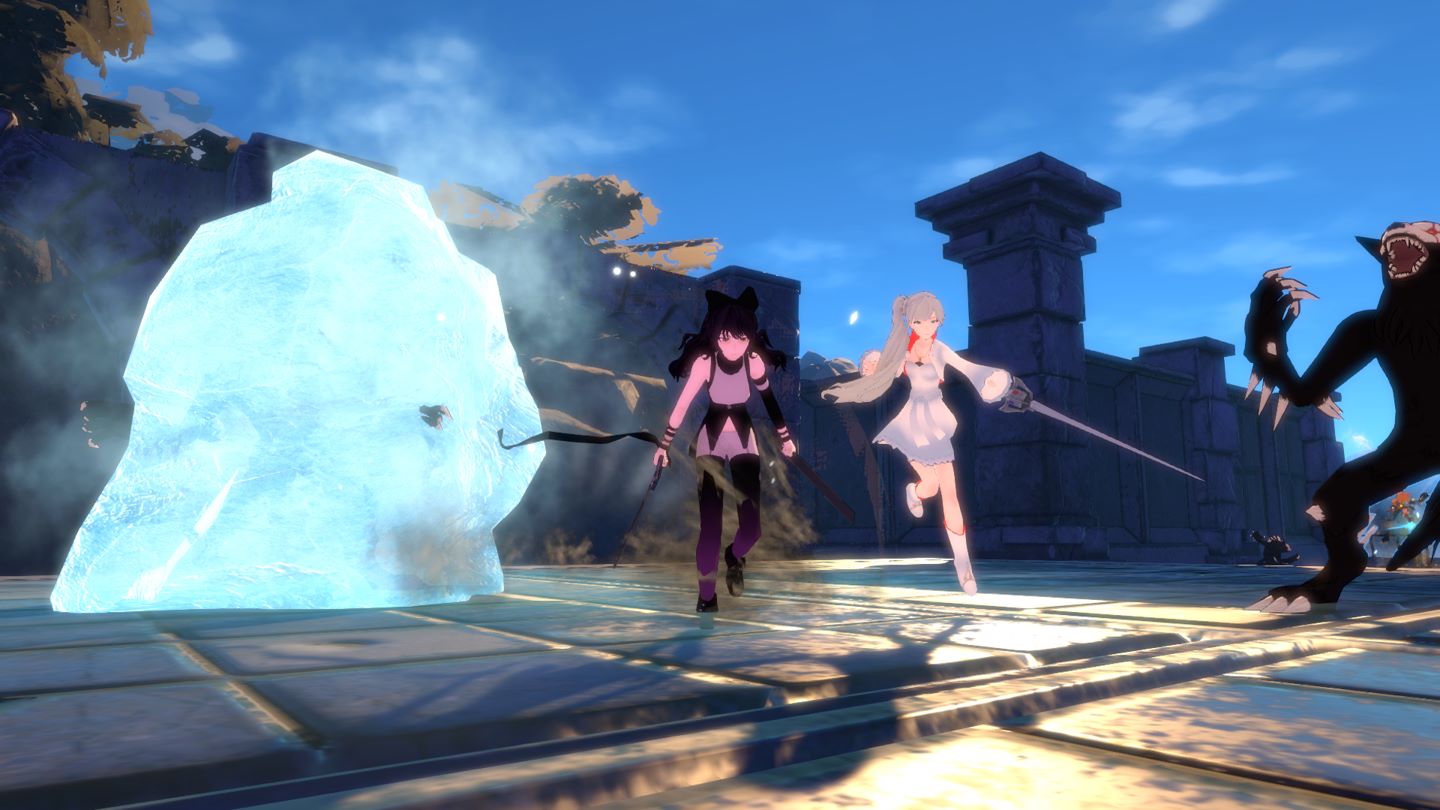 THE BAD
Terrible, terrible linear level design with invisible walls. I'm not sure what went wrong but Grimm Eclipse seriously suffers from very boring level design. The developer reused the same art over and over again, and nothing really strikes out as remarkable. I can't imagine that a licensed video game couldn't give us more original and less boring environments.
Despite the use of the original voice cast nothing else good can be said about the sound. Fighting sounds are flat and often sound is simply missing from animations. The use of orchestral music was a little weird too, it didn't really fit the gameplay. I was missing environmental sounds too or it was on purpose to have the most silent forest in the world.
Score: 62% | RWBY: Grimm Eclipse is a fun Hack 'n Slash game but it could have been so much better. Especially the boring level design is a big eyesore, I did love the combat system and challenging gameplay and the fact that you have four player co-op online is a big bonus too. Overall I can only recommend this game for genre-lovers and fans from RWBY.
Founder | Editor-in-chief | Social Media Manager
Gaming is a passion and I wanted to share my Xbox enthusiasm. That's why I started LifeisXbox, to make sure gamers all around the world know what games they should buy or avoid. I would like to thank you for visiting my website. Your support is very welcome and I hope you stick around!