Demetrios: The BIG Cynical Adventure
Developer COWCAT, or actually just Fabrice Breton brings a new point and click game for Xbox One. I am a pretty big fan for the genre and the game pleasantly surprised me. Read why in this review for Demetrios!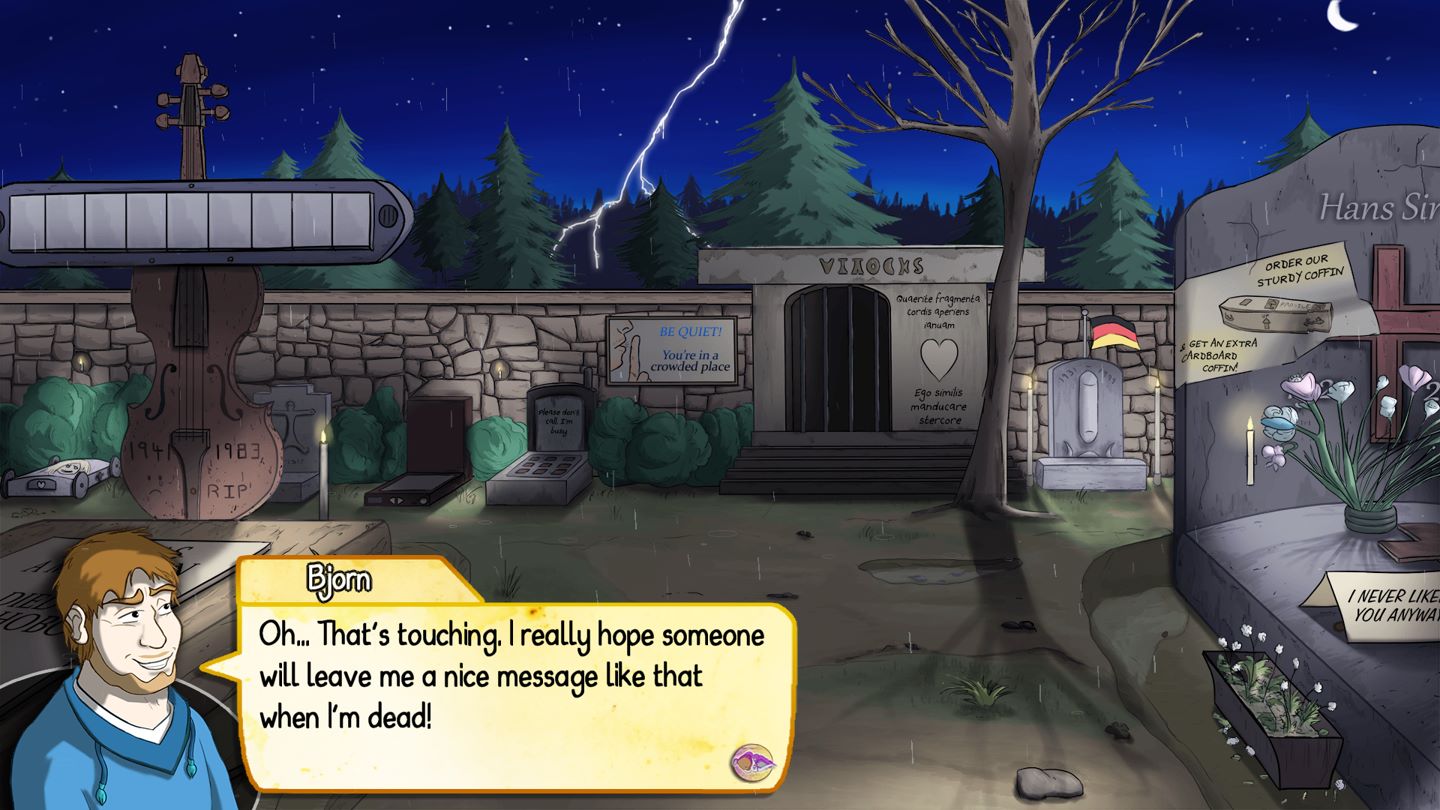 THE GOOD
Someone (me!) can find Australian actress Margot Robbie beautiful, while others don't see a thing in her. The same can be said about humour, maybe even more so. Demetrios has typical poo, pee and puke jokes, that I personally love but others might find it annoying. Luckily Fabrice was smart enough to add a toilet humour slider before starting the game. That said, I laughed out loud quite a few times with all the funny sentences and visual jokes. I don't think I will ever forget the Ice creams guy for example, you will know when you see it for yourself.
Visually the game is a pure joy for the eyes, each location received lots of artistic love, with little details and original set-pieces. The graphics are a colorful mix between realistic and what you can expect in a comic book. Trust me, you'll love it!
One thing I absolutely loved was the "Find & Seek" mini game. On each screen you can find three incredibly well hidden cookies. Hidden objects games, developer Artifex Mundi comes to mind, are totally my thing so I was really happy that it really provided a challenge. Me and my girlfriend are seeing hidden cookies in real life now! Anyway, you can actually use these cookies if you are stuck in the game.
Bjorn, the playable character is a stereotype guy that, on first sight, isn't really special. A clever thing because everyone will be able to relate, game characters these days always have that superficial unrealistic feel and that makes it hard to really appreciate the character. With Bjorn however I could really place myself in his shoes. (We do have the same humour too though, so that helps a lot too)
MIXED FEELINGS
The actual point & click gameplay is a little too easy for my taste and if you ever get stuck you have the cookie-system. It is a shame that the gameplay doesn't really offer the same great visuals and humour elements. Basic and a little been there and done that is what comes to mind. It sounds more harsh than I mean though. The game keeps you entertained, I was just expecting a little more.
Visually things are great, I wish I could say the same about the audio. Nothing remarkable is how I would describe it. It didn't leave a positive or negative impression.
THE BAD
Despite the funny sentences and the interesting story plot the game throws you with an insane amount of text. I had fun playing the game but I couldn't really play it for long sessions because I literally had the impression that I was reading a book. Not only did my eyes get tired because of the small text (and I have a huge 4K TV), it was a little annoying that nothing was spoken. I know that voice actors aren't cheap, but for this kind of game it would have been more than welcome. Mister Fabrice did try to bring voice actors though, but the Kickstarter didn't reach enough money for that.
169% funded on Kickstarter but it sadly didn't reach the Xbox One version stretch goal. Luckily that doesn't matter because Xbox One players can still enjoy Demetrios! And I'm really glad for that. The game is a fun, cheap point & click game with great visuals and gave me a serious cookie addiction. Oh and let us not forget that this is made by just one person, so my biggest respect Breton Fabrice, you did good!
Founder | Editor-in-chief | Social Media Manager
Gaming is a passion and I wanted to share my Xbox enthusiasm. That's why I started LifeisXbox, to make sure gamers all around the world know what games they should buy or avoid. I would like to thank you for visiting my website. Your support is very welcome and I hope you stick around!