Nightmares from the Deep 3: Davy Jones
Nightmares from the Deep 3: Davy Jones is the newest adventure of Artifex Mundi, a Polish studio that has been a long supporter for Xbox with numerous point and click/hidden objects games. In the third chapter of the Nightmares from the Deep series, you play as Sara Black, a museum curator that has a long story with ghosts, monsters and mysteries of the seven seas, in search of her daughter Cory, who has been kidnapped by the legendary pirate Davy Jones. Why Davy Jones kidnapped Cory? Will Sarah be able to rescue her? Let us find more about the game in this review.
THE GOOD
If you have already played one of the many previous titles from Artifex Mundi, you know what to expect from NFTD3. If you haven't, no need to worry: the gameplay is all about pointing and clicking through different scenarios as the story unfolds, interacting with characters, looking for clues, solving puzzles and playing many different mini games. One of them, in which you need to find a determined number of hidden objects in the scenario, will be replayed many times. However, except for this, all other mini games are quite different from each other. Some are easy, but others will be challenging and require some time to be solved. Artifex Mundi pretty much nailed it.
The art of the game is great! You have a large set of beautiful, colorful and very detailed visuals that represent locations for you to adventure in. The music is also very good and helps to build the great atmosphere of the game.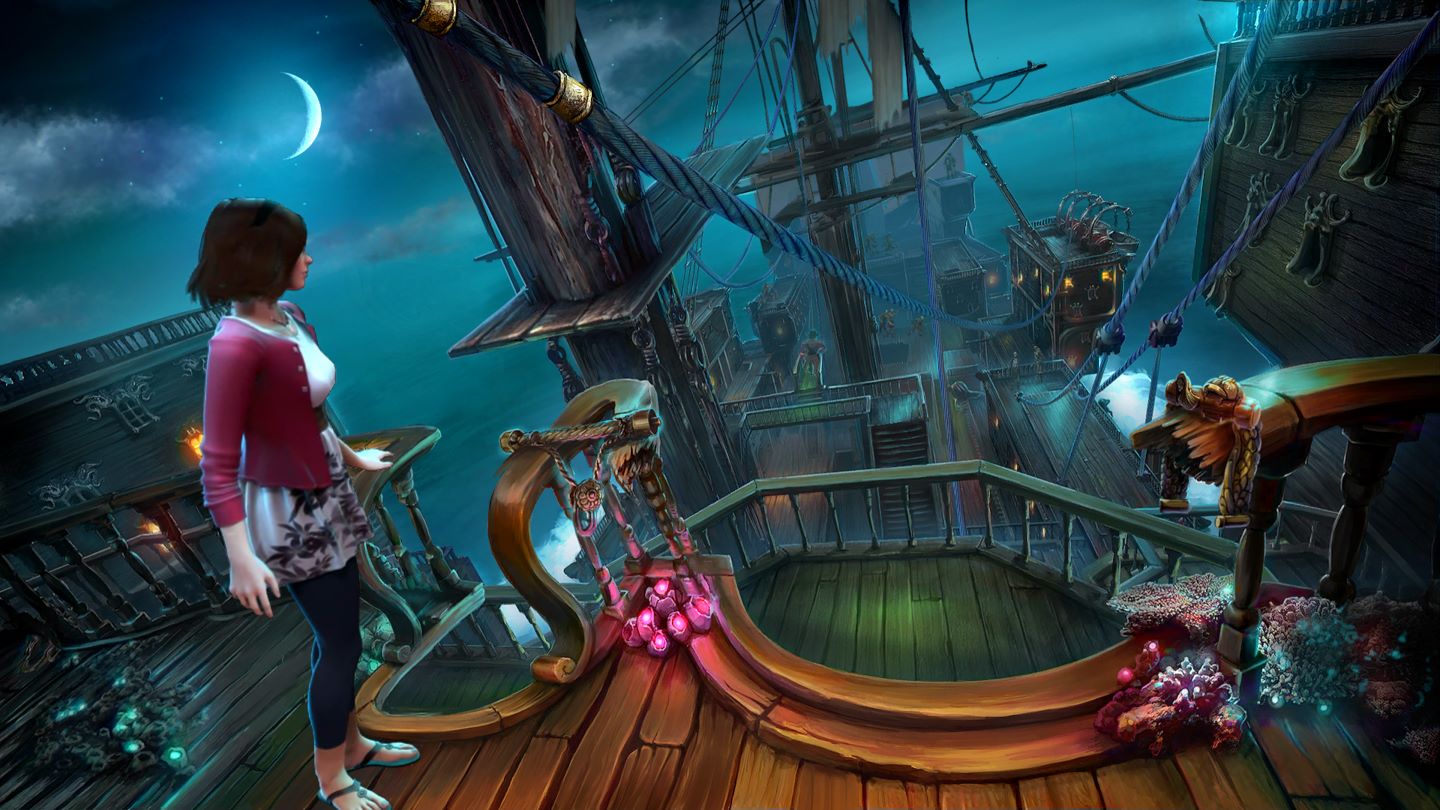 MIXED FEELINGS
Although the game presents quite impressive visuals, animations diverge from the game's beauty: they are very simple and, sometimes, ugly. The contrast between them is quite clear to anyone.
Artifex Mundi games usually gives me a feeling of accomplishment whenever I finish them. For what I could hear from other players, they have a similar feeling about it. I believe it is because the games are all short stories that you can finish in one run. So, even though this is a short game, you feel like you fulfilled your purpose in the game.
The story of the game has its ups and downs, but I really expected more from it. I just hope the conclusion becomes worthy (more about that later).
THE BAD
The puzzles of the game are great. Challenging, they demand some time to find the solution. Some of them demand some kind of code or combination that you can find during walking around the levels. The game offers an aid system for these puzzles (pressing up on the d-pad), but if you are looking for a challenge and wants to solve them all by yourself (or if you are aiming for its achievements), you will not use the game help. Under these circumstances, I run into one specific puzzle for which I didn't have any clues on how to solve it. All I could do was try one of the 256 possible combinations for it. It is possible I have missed the necessary clue to solve this puzzle, but (I hope I'm wrong) I don't believe this is the case. Not exactly the kind of challenge I was looking for.
Except for Sara's and Cory's characters, voice work in the game is strange and do not fit most of their personalities. Especially Davy Jones and the skeletons. Think about the UFC fighter Anderson 'Spider' Silva and you will understand what I mean. On the other hand, maybe I'm only used to Sara's and Cory's because of the first two titles of the series.
I need to confess I was unable to finish the game before doing this review. Near the end of the game, I ran into some kind of glitch that freezes my game and I cannot advance. Thank God it was right after a checkpoint, so I didn't lose any progress. However, until a patch is released to correct this, I am unable to finish my journey.
Nightmares from the Deep 3: Davy Jones [Score: 6.8/10] Artifex Mundi games aren't for everyone, I understand it. It is a very specific genre of game not all kinds of players enjoy. Nevertheless, those who enjoy are always well supplied with great tales and adventures and with Nightmares from the Deep 3: Davy Jones is no different. I still see some road ahead of them, but it is remarkable how the quality of their games keeps improving title after title. The game has some flaws that I am sure will be taken care with some patch in the near future. And after playing this game, one question stood in my head: after Sara or her daughter were kidnapped for two times in the previous titles, why does she continue to pursue these sea mysteries?!
 Dev: Artifex Mundi Publisher: Artifex Mundi
Played on: Xbox One | LifeisXbox received a digital Preview code, provided by Artifex Mundi.
With a history of gaming that goes from his old man's Atari 2600 to his Xbox One, Rafael or RAF687, our Brazilian editor, has a love for games as old as he can remember. He has already spent countless hours in many consoles (Mega Drive/Genesis, Sega Saturn, PS1, PS2 and Xbox 360) and is always ready for more (as long as his wife is asleep). Raf has been writing for LifeisXbox since 2017, with a passion for games of almost all genres – though we know he has a special place in his heart for RPGs, racing games and anything that includes pixel art. Writing about games has always been a childhood dream to Raf, dream that he has fulfilled reviewing games for you here. You can drop him a message at Twitter, Facebook or Xbox Live at any time.