MotoGP 18
Developer Milestone seems to bring out new games on an almost daily basis, it is pretty insane to be honest. On Xbox One you can find these franchises: MotoGP, Ride, Gravel, MXGP Pro, Monster Energy Supercross, Ducati, Valentino Rossi, Sébastian Loeb Rally. While Gravel scored pretty high on LifeisXbox most other games have been kinda average, so what about MotoGP 18? 

THE GOOD
Bike handling is an enjoyable mix between simulation and arcade, important to know is that you can make the game very accessible, so newcomers shouldn't be afraid to go on the track. The physics, something developer Milestone can be proud for, are realistic enough but still fun for everyone. Making a mistake, even on the easiest difficulty is asking for trouble, the slightest miscalculation in braking or turning can cause you to lose control. Going off-track is a big no, dirt immediately builds up on your wheels and will plague you when you are back on the track.
Managing is completely removed from the career mode but it remains fun to play and has been improved with TV show action scenes, creating your own rider, earn development points to improve your bike hardware and more. The career mode has always been immersive in the MotoGP games, it is no different in MotoGP 18.

MIXED FEELINGS
Unreal Engine 4 powers MotoGP for the first time and the visuals are a clear improvement over the previous games. They made some impressive efforts with drone scanning and especially the weather effects look decent. That is the only visual impressive thing about MotoGP 18, all else is pretty average. Crowds and buildings look from a previous console generation and you'll notice a lot of pop up (mostly shadows) and none-loading shapes or buildings, giving a weird and glitchy visual experience. Not to mention the same annoying blurry distance textures from previous MotoGP-games, I hoped the new engine would solve that issue but alas.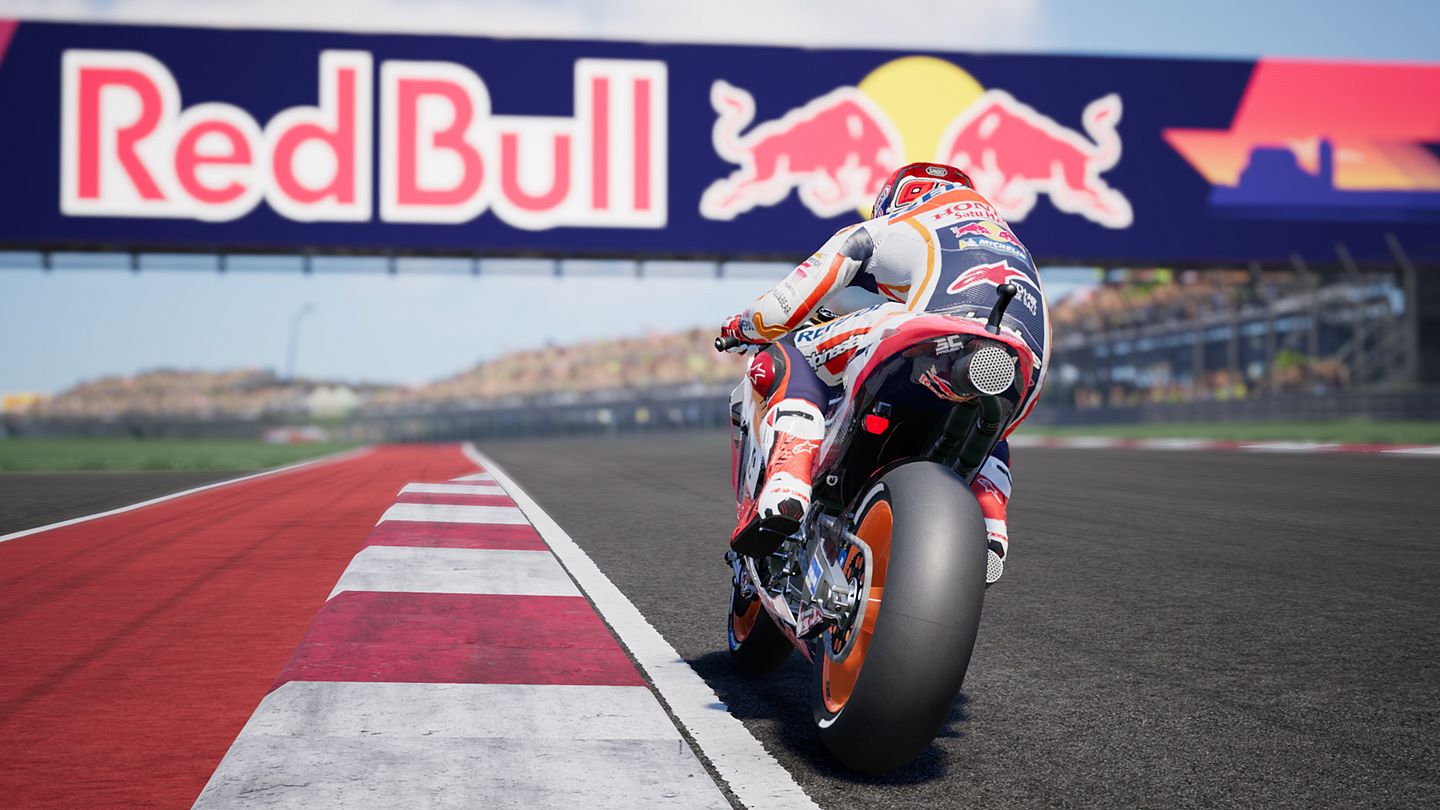 THE BAD
MotoGP 17 had an unstable 60FPS but this new version tops at 30FPS and drops considerably at some tracks with every rider on-screen.  It is very apparent that the developers are still learning how to use the new engine.  Financially impossible for the dev with the licensed MotoGP but it would have been best if they skipped this year, oh well…
Another example that they haven't mastered the engine yet are the insane long loading times.  Screen after screen is tormented with short loading bars and readying the tracks takes ages.
MotoGP 18 [Score: 58%]  I expected a lot more from MotoGP 18, a new engine clearly doesn't mean a better game. Handling the bikes remains fun but the visuals and performance is less impressive. Fans from MotoGP have another decently licensed experience but it is about time that developer Milestone manages to improve the overall quality. 
Founder | Editor-in-chief | Social Media Manager
Gaming is a passion and I wanted to share my Xbox enthusiasm. That's why I started LifeisXbox, to make sure gamers all around the world know what games they should buy or avoid. I would like to thank you for visiting my website. Your support is very welcome and I hope you stick around!