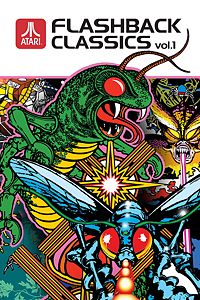 Reviews for Atari Flashback Classics vol.1 and Atari Flashback Classics vol.2 | Reviewing these two collections games was a pure joy of nostalgia, a mind-blowing 100 games, fifty on each volume. I have to admit that most of them were all new experiences for me, most of them gave a dated feeling but quite a few still managed to give fun and addictive gameplay. 
---

 Volume 1 games:
Black Widow, Centipede, Liberator, Lunar Lander, Millipede, Pong, Space Duel, Tempest, Warlords, 3-D Tic-Tac-Toe, Air-Sea Battle, Backgammon, Basketball, Black Jack, Bowling, Canyon Bomber, Centipede, Circus Atari, Combat, Combat Two, Desert Falcon, Dodge 'Em, Fatal Run, Football, Home Run, Human Cannonball, Millipede, Miniature Golf, Pong Sports, Quadrun, Radar Lock, Realsports Boxing, Realsports Football, Realsports Soccer, Realsports Volleyball, Save Mary, Slot Machine, Slot Racers, Sprintmaster, Star Raiders, Steeplechase, Stunt Cycle, Super Baseball, Super Football, Swordquest EarthWorld, Swordquest FireWorld, Swordquest WaterWorld, Tempest, Warlords,& Yars' Revenge.

---

 Volume 2 games:
Asteroids, Asteroids Deluxe, Crystal Classics, Gravitar, Major Havoc, Missile Command, Red Baron, Spring, Super Breakout, Adventure, Asteroids, Atari Video Cube, Basic Math, Brain Games, Breakout, Casino, Championship Soccer, Codebreaker, Concentration, Crystal Classics, Demons to Diamonds, Double Dunk, Flag Capture, Golf, Gravitar, Hangman, Haunted House, Maze Craze, Missile Command, Night Driver, Off the Wall, Outlaw, Race, Realsports Baseball, Realsports Basketball, Realsports Tennis, Return to Haunted House, Secret Quest, Sentinel, Sky Diver, Space War, Star Ship, Stellar Track, Street Racer, Submarine Commander, Super Breakout, Surround, Video Checkers, Video Chess, & Video Pinball.

---
THE GOOD
Not all but some games have online multiplayer and leaderboard, for some reason older games have that magical touch were leaderboard's are still a fun thing. Getting a sweet spot is addictive and can become really competitive between friends.
I'm so glad that Atari decided to not use your TV's aspect ratio, just like Rare Replay the games have a smaller box so everything is crisp and not blurred. Will some gamers dislike that their brand new 4K Television doesn't fill an entire screen? Maybe, but I'm absolutely sure that Retro-fans won't mind it at all.
One thing I really loved about the two collections are the Achievements. I know, each Xbox One game has them but more than others they really give a reason to play a game, and provide extra replay value. They aren't easy to get, some even seem impossible but I like a challenge!
A lot of love is spend on the overall presentation, with original scans as manuals and cartridges. These small details prove that Atari isn't simply hoping for cash from Retro-lovers, with the two Flashback Classics.
Mixed Feelings
Adjusting the controls for today's Xbox One controller hasn't been an easy task for the developer. And it's a hit and miss experience, some games control fantastic, most of them control okayish and a few are terrible to handle. For example Pong is really, but really difficult to control. It doesn't really spoil your experience that much but I sometimes missed controlling it with the original hardware.
THE BAD 
Not all games are worth your time, calling some games shovelware might be a little offensive, and I'm sure each game will have fans but some are really outdated or simply weren't fun to begin with when they came out.
Score: both of them get a 75% | Atari Flashback Classics Vol.1 and Vol.2 are two must have collections for retro lovers. Not everyone will enjoy the very simplistic graphics and gameplay but trying out the 100 games will give you so much nostalgia!
Founder | Editor-in-chief | Social Media Manager
Gaming is a passion and I wanted to share my Xbox enthusiasm. That's why I started LifeisXbox, to make sure gamers all around the world know what games they should buy or avoid. I would like to thank you for visiting my website. Your support is very welcome and I hope you stick around!