The LifeisXbox crew talks about how good and bad the first quarter was for Xbox One. With three favorites and the most disappointing game. We posted the games from Patrick yesterday, today Rafael has a go. 
Tom Clancy's Ghost Recon Wildlands from Ubisoft Paris
Why? They promised us a vast and engaging open world. And delivered it. Period.
Most memorable gameplay moment:To fly through the map with a small airplane to admire the landscapes… it's still one of the best thing to do in the game for me.

For Honor from Ubisoft Montreal
Why? Yes, Ubisoft again. One of the characteristics I admire in their team is that they aren't afraid to try new things. And with Four Honor, they developed one of the most intricate combat systems I've ever seen into an action game, one that's easy to learn but hard to master. And delivered a game that no Knight, Samurai or Viking can complain about.
Most memorable gameplay moment:Still on beta phase, there was one match where I was able to defeat two enemy Vikings at the top of a cliff and evade the deadly blow from a samurai that came to their aid.

Resident Evil 7 from Capcom
Why? I was skeptical about this one. First person? A new main character? Where are the zombies we love so much? Damn you, Capcom! If I wanted to play Outlast, I'd play Outlast. But after trying the beta and seeing the good work they've done into Baker's house, I started to respect it. It wasn't original, but it was really good!
Most memorable gameplay moment:Close to the end of the beta, when you think you're going to escape the house and Jack pulls you back. Man… I had to change my diapers in that time.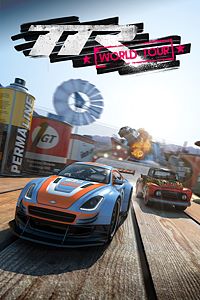 Most disappointing? All the racing games released this year that doesn't support split screen multiplayer, what includes FlatOut 4 and Table Top Racing.
Not they aren't good games (I loved, FlatOut 4!), but all racing games should have local multiplayer with split screen. Local multiplayer, be it couch coop or versus, is one of the main characteristics a look into a game when I'm deciding to buy or not to buy it. And the last racing games for Xbox One are simply ignoring this feature.
Read more!
Patrick's Xbox One Q1 experience Click this!
Dae Jim's Xbox One Q1 experience Coming 6 April
Founder | Editor-in-chief | Social Media Manager
Gaming is a passion and I wanted to share my Xbox enthusiasm. That's why I started LifeisXbox, to make sure gamers all around the world know what games they should buy or avoid. I would like to thank you for visiting my website. Your support is very welcome and I hope you stick around!