Polygod
Developer: Krafted Games
Publisher: Krafted Games
 Developed and published by South African studio Krafted Games, Polygod is a rogue-like FPS with randomly generated levels in which you play as the Faceless, a rogue assassin, the last of his kind, who must face the trial of the gods to receive your godhood. Don't you dare think this is going to be an easy task: the trial of the gods consists in a series of challenges which will place you in randomly generated arenas against minions and a holy champion at the end of it. Prepare to face the challenge of the seven deities by reading our review
What do you do?
Armed with your single-handed gun, you'll be put in randomly generated levels crowded with minions. Your objective is to reach the exit of these arenas by any means necessary no fight the champion of the deities at its end. Inside the arenas, there are altars where you can buy upgrades to your character that changes some of your status (like HP and movement speed) or status of your gun (like the rate of fire and damage). To buy these upgrades, which are available at random for you in these altars, you use the souls of fallen minions. So maybe it's worth investing some time hunting enemies to buy these upgrades to increase your chances of survival… Oh, have I mentioned that if you die, it's game over and you must restart from the beginning?
What is Good?
Customization: The most interesting aspects of the game is its upgrade or blessing system. Each enemy you destroy grants you a soul that can be used to buy blessings for your character in the altars. Each altar offers you three options to choose from and, once you select/buy the one that better suits your play style, it becomes inactive. You better think carefully because there are plenty of different upgrades (or blessings) for you to choose from. Some give you better status (like more HP, for instance) and others improve one status at the cost of others (like increases your damage at the cost of fire rate) while others modify something in your gun (like turning your single shot into a boomerang bullet). Some upgrades are stackable while others can't be combined. You must try them all to find the best combination for you with the ones that become available during your gameplay.
Multiplayer: Game presents local and online multiplayer, with versus and co-op Because playing with friends is always better.
Sound: Polygod presents calm and simple music, changing for faster beats when there are enemies around you (what helps a lot when you're hunting for them). Sound effects of guns and explosions are also very simple. The only bad side is the screeches emitted by some enemies.
Mixed Feelings
Graphics: With art style inspired by the work of surrealist artist Giorgio de Chirico, Polygod presents some of the simplest graphics I've seen in my Xbox One. Elements present almost no details and simple textures (what helps in seeing greater distances though). Stages are composed of colorful scenarios floating in the sky, over water or melted lava, with threes, rocks and other pretty simple elements that remind the beginning of 3D games. Special effects from guns and enemies are also very simplistic. Even the menu is inexplicably simple. Although I absolutely respect the art style adopted by the developer in this project, it's worth mentioning that many gamers may ignore this game due to its non-appealing visuals. Thankfully, you are not one of this kind of player, my dear Life is Xbox reader.
Enemies: There's a good variation of enemies between different stages (with a special mention to Beatle's Yellow Submarine), most of them ready to destroy you as soon as they see you. Besides the different behavior from event types, the AI isn't something to remember. Since it's an FPS game, I would expect them to be much more challenging, presenting different approaches and working in groups to take me down. But no, they're all independent fellas that want me dead at all costs. The holy champions, on the other hand, are huge and interesting: expect flying serpents, jellyfishes, giant eyes and much more.
Great replayability: As each game (or seed, like the game calls it) has a different layout of stages with different upgrades available, every time you start a new game you have a different adventure. Remember that If you like a seed in particular, you can save it for replaying later. The only downside is for completionists: you'll need to finish the game with all different characters to get your 1000G in it, transforming your replayability into something unpleasant.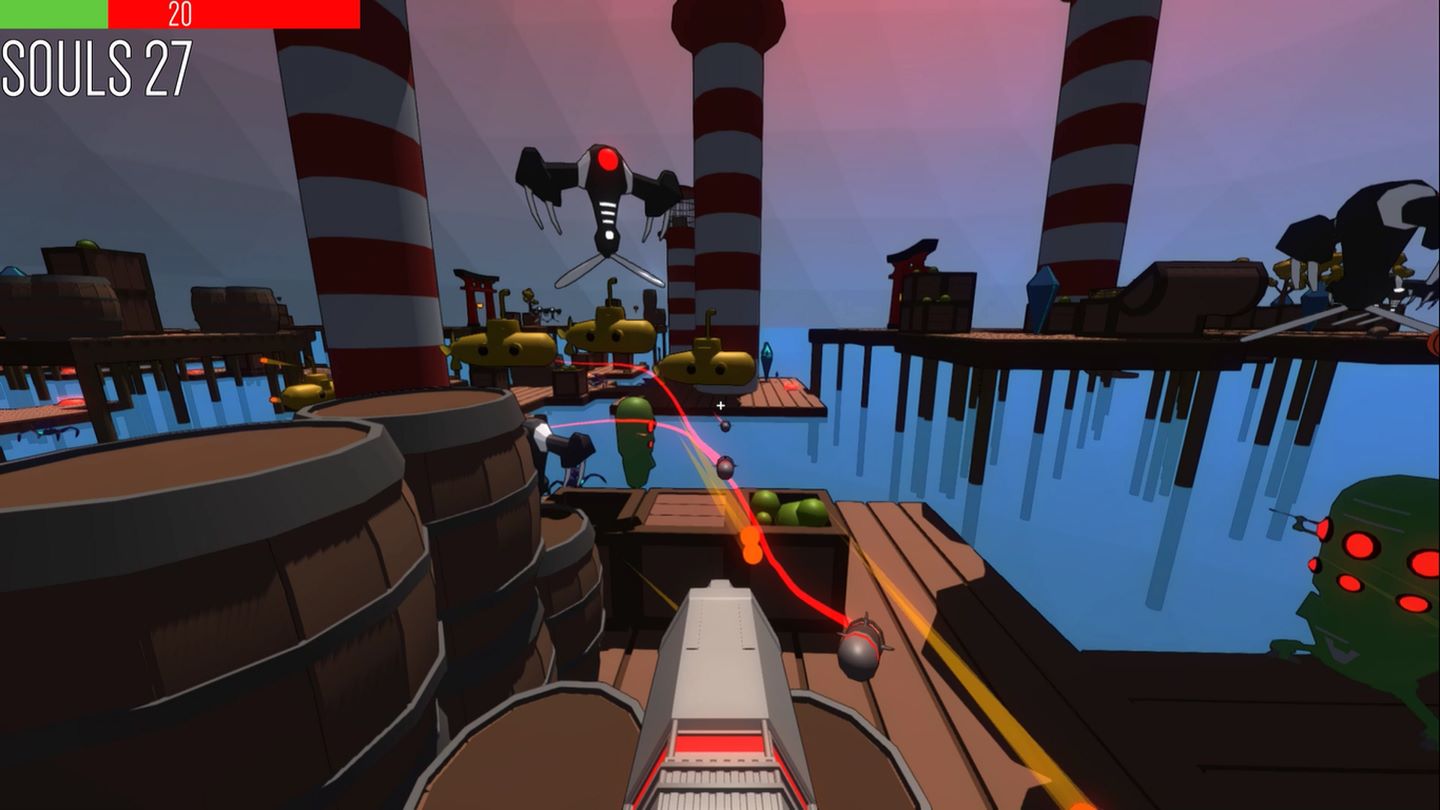 What is Bad?
Performance issues: Although all the simplicity of the game, I've in constant clippings and frame drops (these last ones while facing the holy champions). Nothing that spoiled my fun, though.
Game Modes: Besides the standard 'new game', you can try random or daily seeds with a preset layout of stages that changes… guess what… every day. This last one has also a world leaderboard (which always had the message 'waiting for a challenger' for me). To be honest, they looked all the same to me, with no particular reason (if not for achievements) to check one instead of another.
Unlockables: You can unlock other characters by completing the game or during your gameplay (buying them in some special places you can run into). But except for different initial status, there was no difference between the ones I've unlocked during the review. I felt there could be more value, more individuality in these characters to keep me engaged in unlocking all of them.
Polygod [Score: 60/100] Even with rogue-like elements, randomly generated levels, good replayability and a great level of customization of the gameplay, Polygod delivers a challenging, but shallow experience. On the good side, remember that no gameplay will be like the last one, thanks to the seed system. But as the story wasn't enough to keep me engaged, try to enjoy the game with some friend by your side.
With a history of gaming that goes from his old man's Atari 2600 to his Xbox One, Rafael or RAF687, our Brazilian editor, has a love for games as old as he can remember. He has already spent countless hours in many consoles (Mega Drive/Genesis, Sega Saturn, PS1, PS2 and Xbox 360) and is always ready for more (as long as his wife is asleep). Raf has been writing for LifeisXbox since 2017, with a passion for games of almost all genres – though we know he has a special place in his heart for RPGs, racing games and anything that includes pixel art. Writing about games has always been a childhood dream to Raf, dream that he has fulfilled reviewing games for you here. You can drop him a message at Twitter, Facebook or Xbox Live at any time.